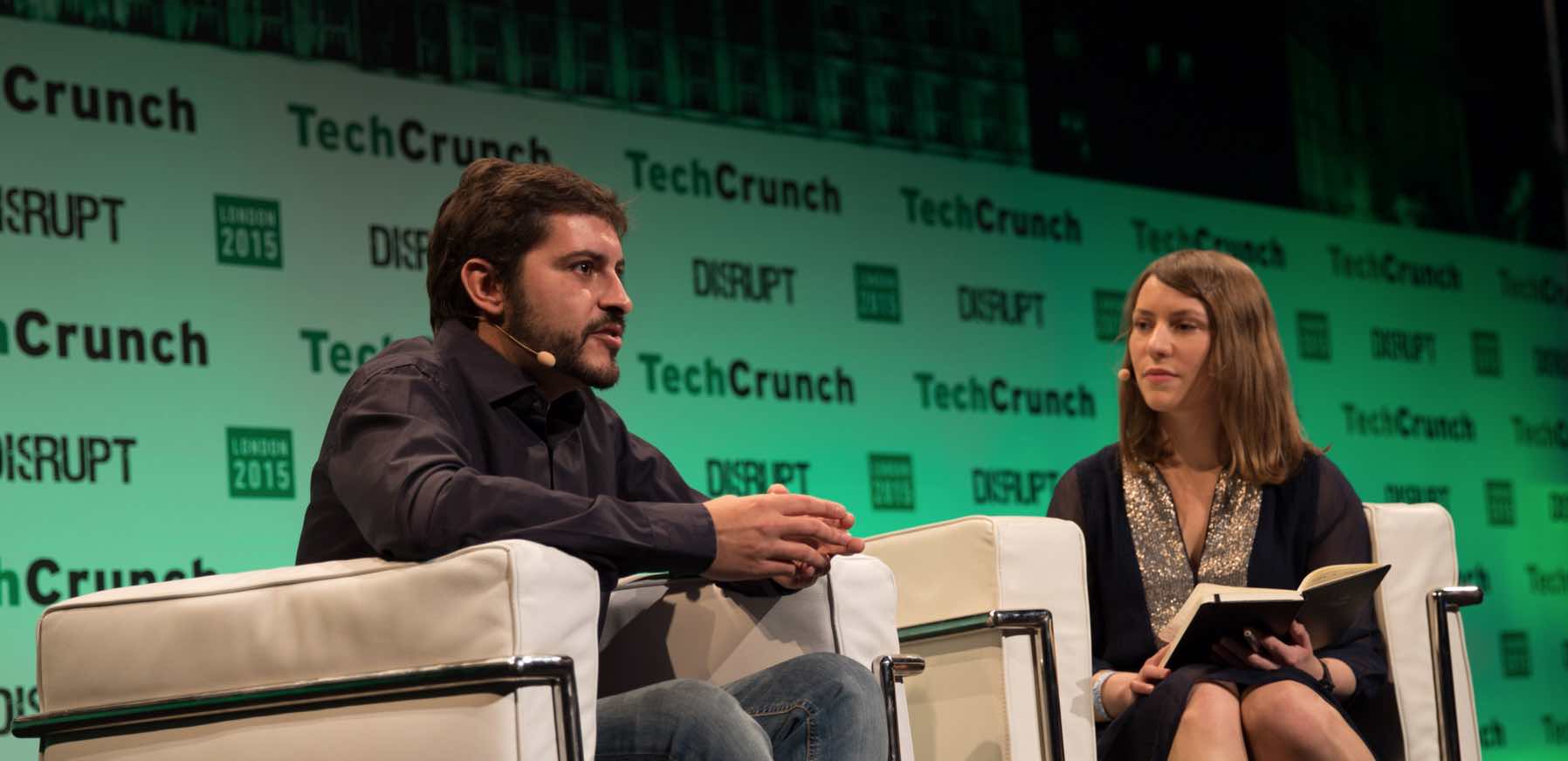 Not often do we get to see Wallapop's founding team at a conference or on stage. Well, that's not exactly true. Miguel Vicente and Gerard Olive, two of the app's co-founders, have often appeared at conferences to talk about the startup. But its CEO and the person who runs the company on a daily basis, Agustin Gomez, has kept a low profile since Wallapop's inception.
This, however, changed this week when Agustin appeared at TechCrunch Disrupt and was interviewed on stage by Natasha Lomas. He did not say anything about the company that was unknown, but he did comment on a few topics that I've covered over the past few months on this very same blog.
No value in talking about fundraising or valuation
Wallapop has never been willing to talk in public about the amount of money they've raised, who they've raised it from or what their plans are for the near future.
We have it on good authority that the Barcelona-based startup has raised more than $140 million from Fidelity, Insight Venture Partners, Accel Partners, Northzone VC or Vostok. However, Agustin Gomez once again declined to talk in detail about the topic; which is totally understandable from the startup's point of view.
"A long time ago we thought there was no upside to talking about fundraising, we never comment, we keep a very low profile. This is a personal point of view, the only ones interested in how much money we have in the bank are our competitors. I don't see any upside about talking about financial raising. We focus our communications and PR in topics that are interesting."
The press seems quite obsessed these days about turning startups into unicorns (private companies that reach a $1 billion valuation), as if that meant much in the grand scheme of things. TechCrunch was the first to mention in May that Wallapop could be on its way to reach that status.
This is what Agustin had to say about the topic and the nonsense talk about this or that startup becoming a unicorn.
"Something that in Wallapop we have control over quite well is never speculating with the valuation of the company. A lot of people get mad — they think the company is better if it has a higher valuation. But when you think in the long term, especially in the classifieds industry where it takes years to take the market, you have to manage your valuation and be very coherent."
Wallapop as a TV driven company
In the past we've mentioned the now famous TV ads Wallapop has produced, both in the US and in Spain.
With no monetisation strategy in place, Wallapop continues to be focused on increasing its user base and finding a right balance of buyers and sellers for its marketplace to improve over time.
Asked about the company's marketing strategy, Agustin claimed that Wallapop is a "TV driven company".
"We've learned a lot about how to combine traditional TV marketing channels with a huge digital strategy", he said. "TV still works".
The acquisition of Sell It
When we broke the news that Wallapop had made its first acquisition, buying NYC-based Sell It, the company declined to confirm the news. However, on stage Agustin did say that the acquisition took place a couple months ago, explained the reasoning behind the deal and also what they plan to do with the company's assets.
"This is something that I can officially announce. Wallapop's main objective is to expand our business in the US", Agustin said. "We started talking with Fabrice Grinda, who six months ago launched Sell It, and since we were looking to create a strong team in the US, we talked about joining forces. We share the same vision about this new category and the deal happened very quickly. I'm now really happy to have Fabrice on our side and he's going to help us expand our business in the US".
Fabrice Grinda is the co-founder of classifieds juggernaut OLX. Letgo, one of Wallapop's main competitors and also a Barcelona-headquartered company that has raised more than $100 million in funding, is also founded by former OLX executives and employees.