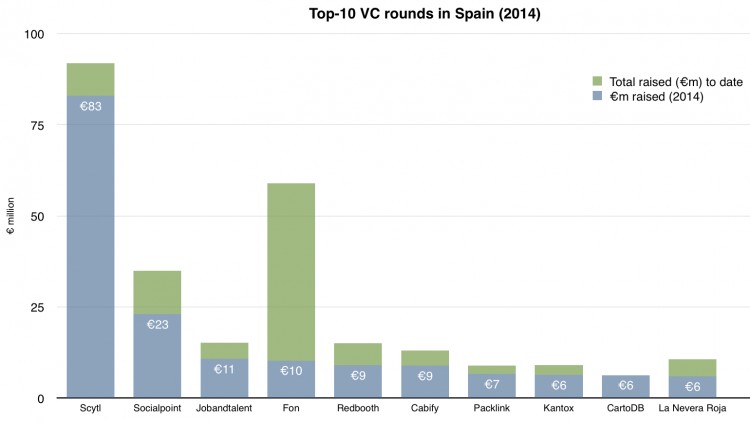 2014 will soon be history and at Novobrief we think it's time to look back and summarize what's happened within the Spanish startup ecosystem. This is the first of a series of entries that will analyze the top investments in the country, the level of investment activity and other aspects that will help highlight what 2014 has meant for startups in Spain.
Spain: Top investments of the year
Investment activity has increased significantly in Spain over the past few quarters. Although official data for 2014 is not yet available, Venture Watch reported that both the amount invested and number of deals went up in the first three quarters of 2014 compared to the same period in 2013. Webcapitalriesgo and ASCRI have also published numbers that point in the same direction.
Much of this increase -especially in the amount invested- is the result of Barcelona-based Scytl's massive round of financing (over $100 million) that was closed over the summer. As visible on the graph above, the second largest round in Spain was raised by gaming company Socialpoint (€23.1 million), followed by Jobandtalent (€10.8m), Fon (€10.3m) and Redbooth (€9m).
Here's a table that shows the top-10 largest financing rounds in Spain in 2014, as well as the total amount raised, the investors that participated in those rounds and where those startups are located.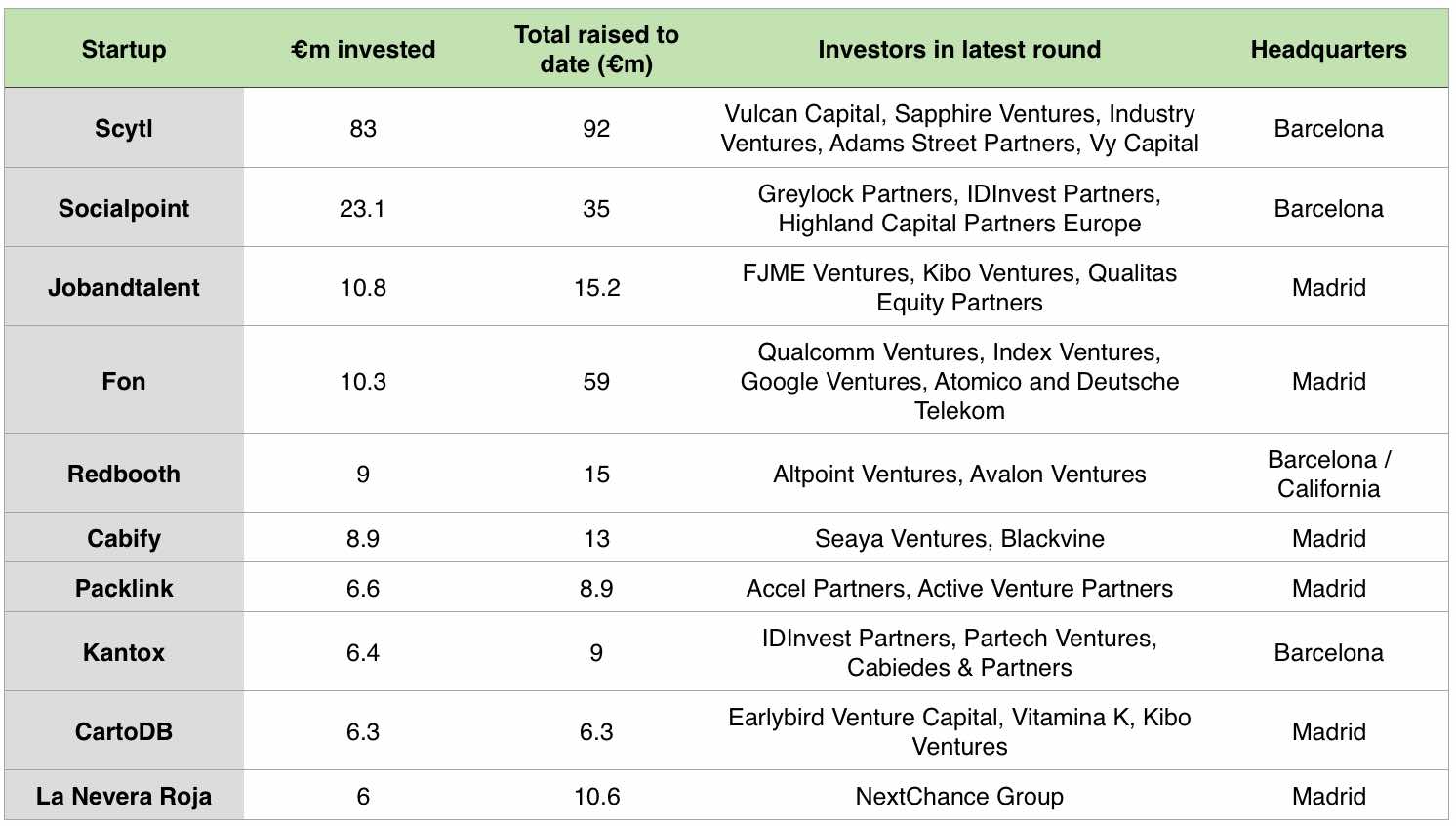 International investors: leading the way in Spain
More international Venture Capital firms backed Spanish tech startups in the first nine months of 2014 than in all 2013, the highest level ever in the history of Spain.
This increasing involvement of foreign VCs is also visible in 2014's top-10, as seven of the rounds were led by an international VC (Scytl, Socialpoint, Fon, Packlink, Kantox, Redbooth and CartoDB). Only Jobandtalent, La Nevera Roja and Ticketbis raised money exclusively from Spanish VCs. Cabify's 2014 rounds (its Series A and the first part of its Series B) were both led by Madrid-based Seaya Ventures and it included the participation of AngelList's fund BlackVine.
Here's a breakdown of the country of origin of some of the aforementioned VCs:
US: Vulcan Capital, Sapphire Ventures, Industry Ventures, Adams Street Partners, Greylock Partners, Qualcomm Ventures, Google Ventures, Blackvine
UK: Highland Capital Partners Europe, Index Ventures, Atomico Ventures, Accel Partners
Germany: Earlybird Venture Capital, Deutsche Telekom
France: IDInvest Partners, Partech Ventures
This shows that while Spanish VC firms are perfectly able to help startups at the early stage, once they reach certain growth and scale they look for foreign investment firms to help them expand both financially and geographically. Something that more Spanish startups are doing lately and hopefully even more will do in coming months and years.
This analysis has been done using public data. If you believe the data is incomplete, let us know in the comments and we'll fix it.