Lanzadera, Marina de Empresas' business accelerator promoted by Juan Roig, has selected more than 120 startups for its January call. It's interesting to highlight that 15 of those come from Portugal. 
The companies are innovating in real estate, health, industry, fashion, marketing, food, and energy sectors. In addition, those that have developed solutions using artificial intelligence to provide value to users are highlighted.
"For the first time, we have traveled outside Spain to attract companies. Portugal has pleasantly surprised us with the quality of the entrepreneurs and their projects. In general, the companies selected in this call offer differential technological solutions that position them strategically in the market", explains Javier Jiménez, general manager of Lanzadera.
The selected companies are assigned to one of the 4 phases that make up the program: the Scale Up phase is aimed at mature companies that have a proven and profitable model but need help to reach new goals; the Growth phase boosts companies with potential but that are pursuing faster growth; the Traction phase is focused on startups in the early stages; and the Start phase is assigned to entrepreneurs who are still shaping their project.
Teams can receive grants ranging from 1,000 euros to 500,000 euros, depending on their needs. In addition, several of them can collaborate with large companies through the Corporate agreements currently active in Lanzadera.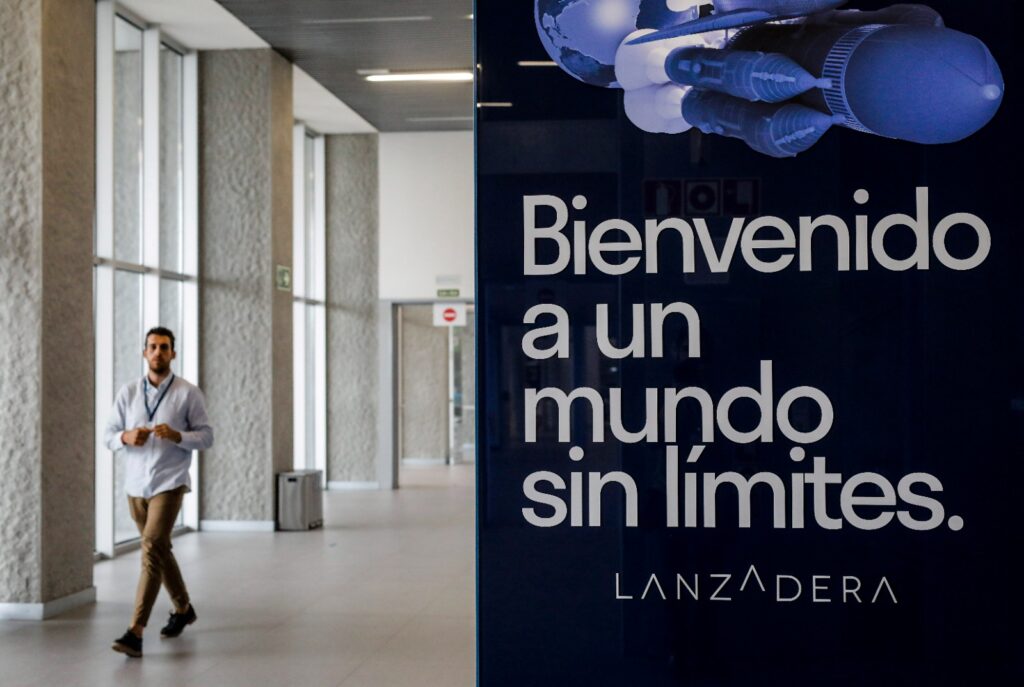 Since its founding in 2013, Lanzadera has boosted more than 1,100 companies that have generated more than 10,000 jobs, providing 21.8 million euros in loans. Currently, around 300 companies are receiving support from Lanzadera at its facilities.
Some of the selected companies
Aldea Energy creates solar communities, helping neighbors and companies to save money and allowing them to enjoy self-consumption without investment, without permanence, or even without a roof.
Automaise radically optimizes customer service operations in companies, helping agents to do their job better.
AyGLOO is an explainable and intuitive AI so that anyone without technical knowledge can take advantage of the full value of artificial intelligence.
Bandora is a virtual Facility Manager that turns any smart building into an autonomous building, seamlessly integrated with any existing IoT.
Bchange transforms organizations by changing people's mindsets and training new skills with its Mindset Management Program.
Biotech & Nutrition Research has developed Retiprotek, a new nutraceutical that could help delay vision loss in people affected by retinitis pigmentosa.
Biuwer is the Embedded Analytics tool with which startups and SaaS companies build data visualizations by integrating them into their own applications.
Brand4Impact is a platform that unites sustainability and profitability through a new concept of corporate giving.
ByAr combines augmented reality with other technologies to create digital environments that connect stories, people, and spaces.
Caza Tu Plaza is a SaaS specializing in competitive examinations that makes academies more efficient and effective to impact the learning of candidates.
Chaise Longue Economy Seat is a double-height airplane, train, boat, and bus seat that increase passenger comfort and optimize cabin space.
Chat Ergo Bot is the most intuitive SaaS platform for chatbots and conversational voice bots on the market, with a focus on small businesses.
Clevergy is a software to optimize household energy consumption. To do so, it partners with banks, retailers, companies, and public entities.
Cocobay is a web3 virtual world built by its creators, who sell curated collections of virtual objects and avatar clothes in an NFT e-commerce.
Datalex is a legal practice software, designed by lawyers, for the day-to-day management of legal matters.
Deleite Wear is the first circular economy solution to clothe hotels with their textile waste.
Designable is a platform that makes it easier for individuals to promote buildings on demand, being able to customize a new and sustainable house.
Digital Manager Guru provides all the resources to be able to run an online sales operation with total freedom of choice on which services and tools to use.
Electric Save automates sales processes in the energy sector: based on bill data, instant savings offers are made through different channels.
Emendu facilitates technology onboarding for companies, thanks to flexible technology leasing and its IT-as-a-service platform.
Equito democratizes access to the real estate market by using blockchain to offer the purchase of fractions of a property from 100 euros.
Erasmus Play is a student accommodation comparator in more than 500 cities worldwide that makes the booking process easy, fast and secure.
Estetical is the first All-in-One solution for the beauty sector, covering all the needs of companies: software, app, call reception, and customer acquisition.
Fander allows you to hire live music for any type of event or celebration, with the possibility of choosing the day, time, and repertoire.
Fitenium is a mobile application and online community for personal training and injury prevention.
FitnessKPI is a Business Intelligence with AI that analyses data and automates actions to improve results.
Flyde is an easy-to-use customer data platform designed to learn about a company's customers by combining artificial intelligence with Big Data.
Frutas Prohibidas is 100% plant-based disruptive catering, with dishes created from scratch through innovation in techniques and uses of new foods.
Full Venue uses AI to predict the likelihood of a fan making purchases, such as event tickets, with up to 95% accuracy.
Funtech Rocket is an online platform to teach children in a fun and easy way the most in-demand skill: programming and coding.
Gastrokaizen is a software for chefs to design profitable dishes, ensure quality and keep their kitchen under control.
Geek Market brings together individuals who want to sell or buy used technology devices with a guarantee.
Getlinko is a marketplace that connects advertisers with blogs, digital newspapers, and podcasts to buy and sell sponsored articles quickly and securely.
GlobalSolver helps companies solve complex problems and drive business value using Big Data Analytics, Machine Learning, and AI solutions.
Greendur has developed technology that decarbonizes industrial heat generation using clean energy.
Gretel is the first AI-based digital marketing assistant to make better decisions with data from Google, Facebook, and Mailchimp.
Growth Road develops Generative AI applied to psychology, offering vocational guidance and psychometric profiling services to individuals, schools, and companies.
Guzzu is a newly founded platform where music creators can experiment with and sell digital merchandising to their fans.
Hardman enables automated management of loading and unloading operations with logistics providers and gives customers visibility of the status of their goods.
Infinite Foundry is an industrial Metaverse platform that uses real-time 3D calculations to power an advanced control system that increases efficiency by 50%.
Innporting is a technology platform that connects exporters and importers with transport companies.
Keres Esports is Europe's first female esports club that seeks to create new female benchmarks in the industry.
Keybotic manufactures the only fully autonomous robot dogs for industrial inspections in chemicals, security, and mining.
Kluest developed by Sons of a Bit, is the Spanish metaverse with the greatest projection due to its differential proposal. It aims to become the Roblox of augmented reality.
King Brown is a company based on brownie innovation and the distribution of confectionery products.
Kombo reinvents food in the office through smart canteens operated by local restaurants and caterers.
Kreios Space is developing an electric propulsion system for satellites. This technology is the only one that allows satellites to orbit closer to Earth.
Let's cook is a meal kit company for cooking with local recipes and fresh produce.
Lodgerin finds accommodation for students and young professionals in the main European capitals. It has agreements with more than 70 international universities.
Magistral provides online training in the skills most in demand by companies: leadership, negotiation, sales, and public speaking.
Makalú Kombucha is the first Valencian kombucha brand. Produced by hand, it is a healthy and social drink without alcohol and low in sugars.
Mas Leads Es It fills the agenda of sales teams by capturing leads through email marketing powered by artificial intelligence.
Matereo is a scalable and simple-to-use platform for predictive bridge maintenance.
MelmacIA designs artificial intelligence models trained on the best data sources to solve insurance industry problems in a practical and simple way.
Miistico is a digital platform for selling emotional products and services.
Motmo is the music platform where original artists teach how to play their best songs.
Navlandis has developed Zbox, an innovative foldable shipping container for more sustainable transport.
Nerety is a marketplace where you can find the best emerging fashion for young people.
Neroes uses a wearable device that reads brainwaves to feed a video game that trains the brains of athletes, who increase their performance.
Nevaro develops digital health solutions for mental health management, which they make tangible by evaluating physiological data.
News To You is dedicated to high-level data mining of the media, reinventing press clipping for business and management.
Niufly offers precision agriculture solutions, specializing in aerial treatments and remote sensing with drones for crop protection and improvement.
PadelDrop is a company that automates the management and sales service of sports equipment in padel clubs.
PeriGes is a software solution that digitalizes all the claims management processes commissioned by insurance companies.
PixelAR is a platform to help creative professionals publish all kinds of digital content such as 3D experiences and augmented reality.
Rentastic is a Spanish fintech awarded for offering the most competitive integrated industrial leasing solution on the market.
Renting Finders is the leading car leasing marketplace in Spain and Portugal, with more than 10,000 active subscribers.
SharpShark is a blockchain-based legal tech that provides full-cycle "protect – detect – delete" content in intellectual property management.
Sensefinity digitizes the supply chain using IoT, AI, and blockchain, helping cargo owners manage their goods and their status anywhere, anytime.
Sigma Industrial Precision has developed a technology solution for automated electricity analysis to enable smart maintenance.
Solved is a software to manage incidents in the industrial sector in a simple, collaborative, and data-driven way to improve production processes.
Swap Your Travel is a marketplace for buying and selling travel that allows you to recover money for non-refundable tickets that are not going to be used.
The Virtual Company is a company dedicated to hyper-realistic interactive solutions from any mobile device, using AR/VR web.
TribuApp is the leading platform for renting or monetizing an office, allowing users to earn money for space they don't use.
Trip2Balance is building nutrition 2.0 by using technology to reinvent the experience of following a diet.
United Gamers has developed a digital academy for esports players where they can improve their knowledge, skills, and health.
Viexpand is a smart solution for monitoring and controlling industrial sites, with video AI technology to deliver actionable data in a fraction of a second.
Visuamed is a surgical planning tool that, with virtual reality, gives greater confidence to the interventional team, minimizes risk, and improves the patient experience.
Virtuleap combines neuroscience and virtual reality to diagnose and delay cognitive disorders and improve cognitive performance.
Voicefinder is the platform that connects creators and companies with the best professional voices in over 50 languages.
VRi is a solution that uses artificial intelligence to analyze complex multidimensional biomedical image data more than a thousand times faster than a specialist would.
W3 FanSports is a blockchain consultancy for sports organizations, fans, and professional athletes.
XRON Software is a video game development studio based in Barcelona. Its main goal is to create detailed open-world, RPG, and survival games.