In a time when humans lived in isolation and connected to the world only digitally, the metaverse emerged as a new territory for expanding life and business.
We already have been hearing a lot about Fortnite, Roblox and VRChat betting on it. Also about fashion businesses entering this new economy with examples from Balenciaga to Vans, plus Zara launching its first collections of designs for humans and avatars… Everybody wants a piece of the metaverse market. Though the most promising sectors right now are entertainment and gaming, as we can see them also starting to boom in Spain.
The Spanish case
The metaverse is not a bizarre concept for the Spanish ecosystem. Some examples prove the pioneer aptitudes of certain startups. And this is only going to get more interesting.
Wildbytes, an innovation agency based in Madrid, Barcelona and New York, said in December 2021 that investment in the metaverse worldwide will multiply by 10 in 2022.
Álvaro Arenas, a professor of Information Systems and Head of the Information Systems and Technologies Department at IE Business School, has said that he hopes to see a direct impact on the future of several tech sectors when the metaverse ecosystem grows more in 2022. The tech sectors he means are Virtual Reality (VR), Augmented Reality (AR), online gaming, consumer electronics, cryptos, edtech and telehealth, among others.
One of the most talked-about Spanish startups right now is Virtual Voyagers, that focuses on VR and AR. Founded by Edgar Martin Blas, former creative director of Tuenti, it helped Facebook create Horizon Venues, its digital concerts platform that is going to be one of many of its main attractions in the metaverse. Virtual Voyagers teamed up with LA-based company Supersphere to build the platform. Artists like Jaden Smith and Steve Aoki participated in this proto-metaverse adventure.
We are in the middle of one of the defining moments of the century in terms of technology and creativity

Edgar Martin Blas, CEO at Virtual Voyagers
So far Virtual Voyagers have been involved in more than 230 projects for brands like Ferrari, Vodafone, Disney, Ikea, Inditex and Mastercard. They have recently created their own academy with Universidad Complutense de Madrid, with the idea of educating people on the metaverse and the businesses within it.
Another Spanish startup going deep into the metaverse is Voicehumans. It started four years ago with chatbots and now they are working on marketing processes with digital humans. Voicehumans develops virtual workers for companies, from receptionists to salesmen, or personnel for the health sector, finances, education, etc. Javier Furones, co-founder and CEO of the startup, said that every company can have its own avatars.
Serious playing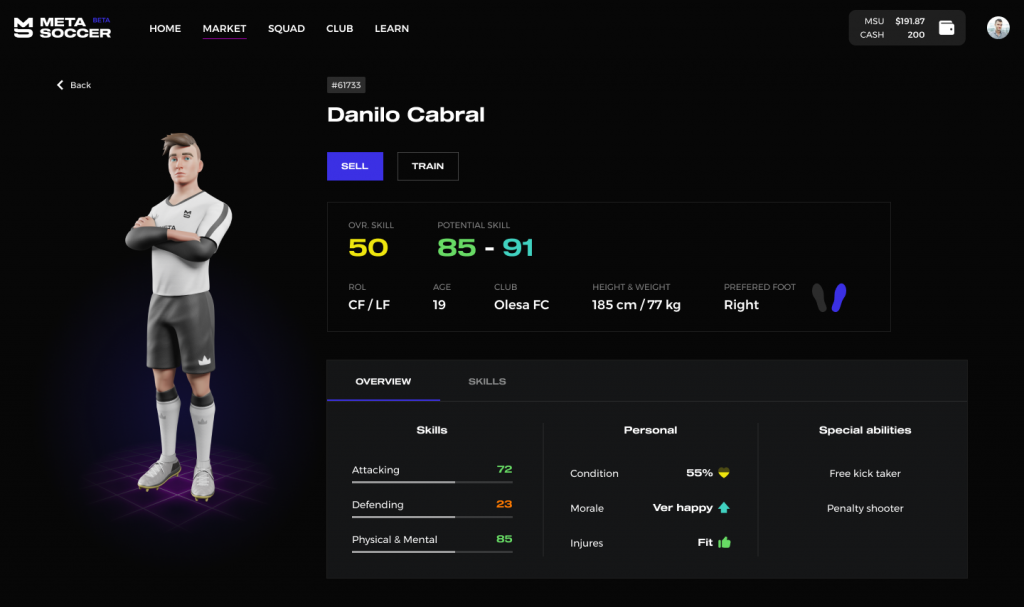 In the gaming arena, the Barcelona-based studio Champion Games made headlines after raising €2 million to launch the first metaverse soccer game: Metasoccer. Based on blockchain, it's an NFT play-to-earn project that has drawn inspiration from Axie Infinity, the popular NFT-based online videogame.
Champion Games own all of their assets in the metaverse; that is, the teams, stadiums, players. They have already sold almost 100 million MSU (their token) in a private sale.
Patxi Barrios, co-founder and COO of Champion Games, said that the idea is to create a new generation of players and football clubs digital natives that in the next few years will have similar valuations to the ones we see now in the big European Leagues.
According to the startup, its potential market is 40% of the planet's population, calculated based on the fact that 3.100 million people play video games and 3500 million are football fans in more than 200 countries. In addition, 1.600 million people regularly place sporting bets.
Also a big name in the gaming arena is Owo. The Málaga-based startup was recently selected as one of the winners of the 2022 CES Innovation Awards in the Virtual & Augmented Reality category for their haptic vest, designed to be used in the metaverse. It was the only Spanish startup that received an award–among big tech firms like Lenovo, Acer, Canon and HTC.
Owo believes that not only the senses of vision and hearing are important, but also the sense of touch. The haptic vest allows people to experience virtual worlds in a whole different way. This product offers the user the possibility of up to 30 real different physical sensations to feel while playing.
For Edgar Martin Blas, CEO of Virtual Voyagers, we are onto something big. The metaverse is an open market, full of collaboration, that inherited its philosophy from videogames. According to him, we are in the middle of one of the defining moments of the century in terms of technology and creativity. A new and exciting land is open to conquer. Welcome to the metaverse industry.