Champion Games is the first independent Web3 gaming studio in Spain, co-founded in Barcelona by Marc Cercós, Patxi Barrios and Alex Fiestas. They created the world's first blockchain-based soccer metaverse, MetaSoccer, where game users can not only manage their club, create and train their team, but also win while having fun as soccer coaches.
Users can compete against computers or other players with their NFT players – in MetaSoccer's Player vs. Environment. In addition, users can join and compete in as many friendly matches as they wish, receiving rewards for winning matches.
The long-term goal of the project is to create an ecosystem where players generate the same revenue as a professional team in the real world through championship prizes, sponsorships, match broadcasting and digital merchandising among other lines of business.
Novobrief sat down with Marc Cercós, CEO and co-founder of Champion Games and MetaSoccer, to know more about what will it be like to raise VC funding for the rest of 2022 for Web3 startups and what will be critical for a Web3 startup to close a financing round in the second half of 2022. He also shared some actionable advice for web3 startups looking for funding.
Cercós has a great track record as a startup entrepreneur since Champion Games is the third big project he created in 2015 with Patxi Barrios (COO) and Alex Fiestas (CTO). In 2005 together with Pau Garcia-Milà and with both 18 years old, they created EyeOS, which today is the world's leading cloud desktop. This is one of the largest open source projects in Europe with more than 1 million downloads and communities worldwide. Later, in 2014 he sold the virtual operating system EyeOS to Telefónica, thanks to which he was able to undertake the following year this gaming project on the blockchain, MetaSoccer, by Champion Games.
Cercós thinks that in general, for the rest of the year it will be complicated to raise funding for startups, regardless of the sector they are in. "I don't think Web3 startups will have greater difficulties than the rest, quite the opposite. The difficulties will come in series A rounds upwards", adds.
No play, no game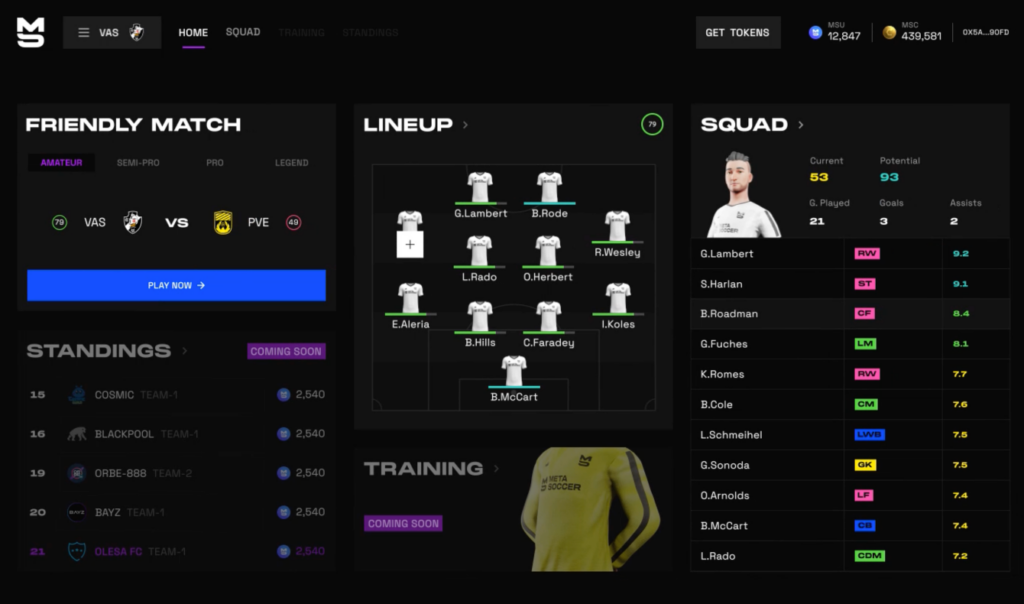 Champion Games raised €2 million to launch MetaSoccer in November 2021. The game was inspired by the play-to-earn model of Axie Infinity. According to data published by Polygon, the first blockchain with the most play-and-earn games in the world, last June 2022, MetaSoccer snuck into the number 3 position in the ranking according to transaction volume.
Cercós says that Champion Games has now consolidated in the market, with more than 7 years in the industry and titles with hundreds of thousands of users. "Undoubtedly, our experience in gaming together with the talent in Web3 that we managed to incorporate in the company, were key to close the investment", adds about their latest round of financing.
For him, If something has been seen in the Web3 gaming industry, it is that many projects have emerged driven by teams with good experience in blockchain, but with little or no experience in game development. "In Web3 projects, it is key to demonstrate that games can retain their users despite the downtrend in the market… and if a game is not fun, it will hardly make it", adds Cercós.
Critical advice
What will be critical for a Web3 startup to close a financing round in the second half of 2022? Cercós says that, although the overall outlook for this year is difficult, it does not mean that it is impossible to raise funding. "Web3 startups in particular will need to demonstrate that they can drive and retain users, beyond having generated large revenues during the previous months. Although market conditions may be difficult, we are seeing web3 projects scaling rapidly (Ready Player Me) and tier 1 funds are creating web3 specific funds (a16z crypto)", adds the CEO and co-founder of Champion Games.
Cercós also gives some advice to Spanish web3 startups looking for funding in what is left of 2022. For him, in recent months the blockchain market has generated a lot of attention in the technology sector. "This is very interesting because it opens opportunities to sign highly qualified profiles, who see Web3 as "the next big thing" and want to orient their professional career towards that direction. Being able to attract these profiles and getting the product to show traction are the two key points in order to be able to attract investors to close an investment", concludes.