Ahead of the upcoming Spanish regional elections to be held on May 28, and with the aim of deepening on topics like technological talent, companies as an economic engine and innovation, three political parties participated in a round table organized by IMMUNE Technology Institute.
"Technology does not understand either ideologies or political colors," Tesh Sidi, from the parliamentary group Más Madrid, said.
The other two participants were Ana Collado, from the Partido Popular, which currently governs the Community of Madrid, and Gonzalo Babé, representative of Vox.
The three political groups agreed on the need to guide companies to introduce technology in their businesses and to eliminate economic and bureaucratic obstacles.
The lack of tech talent and the speed at which technology advances were the two main axes of the beginning of the round table, where the need for more women in the STEM field was also discussed.
Collado and Sidi agreed on the importance of a gender focus in these formations.
At the same time, Babé claimed that the low presence of women in technology careers was simply due to "mere personal preferences".
"Currently in Spain there is a lack of 200,000 engineers and there are two million unfilled jobs in the STEM field, how are these figures being addressed from the institutions?", asked Luis Palacios, CTO of CISCO, and coordinator of the debate.
"We need to refocus education, bring technology to school, and teach programming at an earlier age. There is a misconception that to learn technology you have to be an engineer, but that is not the case. It is essential to promote a professional education focused on technology that is dual and public, focused on the needs of the market," responded Tesh Sidi.
On startups and data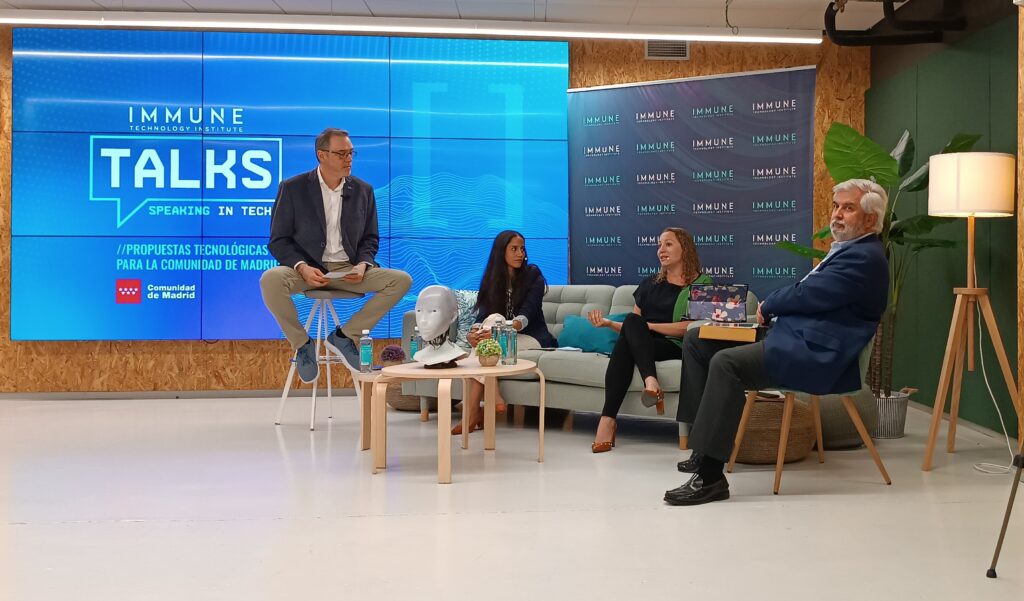 The debate continued with the use of technology by companies and the role of institutions in encouraging and facilitating this use.
"Data is the oil of the 21st century," began the PP representative. "SMEs lack consultancy, someone to guide them, someone to tell them where they have to prioritize", added Collado-
The difficulty for startups when it comes to entering the tech market was also emphasized.
Sidi explained that "we live in a circular economy, and as such, we have to design collaborations between SMEs and large companies. There is a clear need for public project proposals and political and budgetary will. For startups, there is plenty of talent but a regulatory framework is lacking, and there is a lack of aid and support from governments."
On this last point, Babé agreed: "What companies need is for obstacles to be removed, both at state and regional level, so that they can work freely.
On AI and cybersecurity
Cybersecurity and the need to address the ethical issues of both cybersecurity and artificial intelligence were the two main points discussed at the last part of the meeting.
Collado and Sidi agreed on the need to establish a consensus before starting to legislate but, when asked if regulation was necessary to address the ethical issues of these technologies, the PP representative answered directly that it was not.
"Of course it is necessary to regulate it, but there has to be a consensus framework first, and when there is a consensus within the state and autonomous frameworks, we will be able to talk about laws," she explained.
Sidi, for his part, proposed: "to work horizontally in an observatory that does not impose, but makes proposals to companies, since many of them do not even know what they are doing wrong. To be able to legislate, it is first essential to know how to help companies in this aspect."
Babé disagreed on this point, and assured that "it is good to create a framework for debate on the subject, but it does not have to be legislation, but rather a self-regulation of the companies themselves that make that exercise of reflection."
"The word cybersecurity is very scary for citizens, that is why it is necessary to train the small citizen in this because it is an issue that concerns us all," Sidi.