The video game industry in Spain is experiencing one of its best moments in terms of turnover and employment, and this year the industry generated more than 8,700 jobs.
Additionally, the Spanish Video Game Association (AEVI) highlighted that in 2017 more than 1,359 million euros were generated, which was 17% more than in previous years, and it is expected that for 2018 these numbers will only increase.
The increase in turnover compared to previous years means that Spain has positioned itself as the ninth country with the highest consumption of video games in the world, behind major powers such as China, the United States, Japan, Germany, the United Kingdom, Korea, France and Canada, according to NewZoo, a portal specialized in digital entertainment.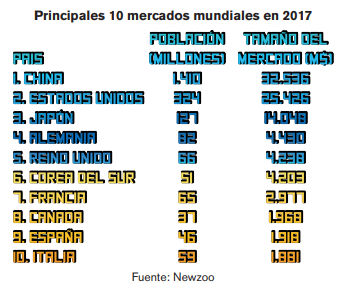 On the other hand, at the level of employment, 63% of video game companies in Spain say they have problems finding qualified staff, according to the White Paper on the Spanish Development of Video Games prepared by DEV.
According to the White Paper, "The key to the success of this industry lies in its ability to evolve constantly and quickly, and to adapt to the tastes of consumers, creating and leading new trends."
This is evidenced by the emergence of companies that are able to learn from gamers and adapt to their needs, as is the case with Sizzle out of California, which leverages AI to automatically detect the action highlights and most important moments in a game that is streamed, so fans can watch a full 20 minute Fortnite game in just 5 minutes that concentrates on just the action.
"There are millions of fans that want something shorter than an 8 hour livestream, but more in-depth than a 3 minute highlight reel. Our beta testers have been very excited by our 5 minute condensed game format, since they can now watch a full 6 hour stream of 10 games played within 50 minutes," said Murali Raju, Co-Founder and CEO of Sizzle, via The Sociable.
In the field of video games, the profiles of work in Spain are very varied, but according to data by Deusto Formación the profile that dominates is "Design and Development" with more than 180 students enrolled in the course 2017-2018.
More than 58,000 students have already studied with Deusto Formación, based on continuous quality training, which is fundamentally practical. The areas that make up its courses focus on the development of competencies, knowledge and skills of greater relevance in the business and ICT field.
Barcelona Blooming
Barcelona has been positioned in recent years, both nationally and internationally, as an attractive place for the video game sector, both for its geographical location and for having successfully developed an ecosystem that has fueled the industry and generated cases of important successes, according to DEV.
In this sense, it is worth mentioning Social Point, a Catalan startup that has recently been acquired by the US company Take-Two Interactive for 276 million dollars.
In addition, Barcelona has been chosen by large companies and international development studios, which have established their headquarters in the city, including Ubisoft, Gameloft, King, Zeptolab and, recently, Scopely and Riot Games. The growth experienced by these large companies contributes significantly to the weight of Catalunya in the national turnover.
On the other hand, the evolution of the distribution of employment reveals that it is concentrating more and more in the Communities of Madrid and Catalunya.
Disclosure: This article includes a client of an Espacio portfolio company