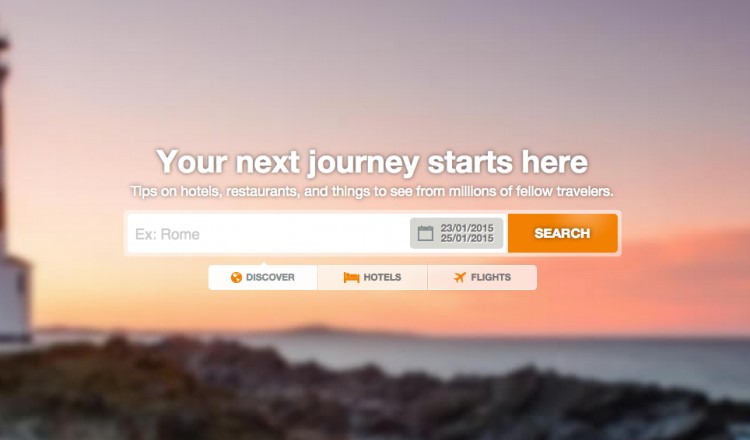 2014 was an interesting year in the history of social travel platform Minube. The seven year old company changed its business model -based on ads until then- to fully focus on helping users make bookings through the platform. A pivot that, according to numbers shared by the company with Novobrief, has paid off.
Minube closed 2014 with almost €1 million in net revenue (more than €10 million in sales) from hotel bookings, on top of an additional €500,000 from ads. "It's been hard, but we've achieved this in less than a year and we feel like we're not done yet", says Minube's CEO Raul Jimenez.
This change towards a transactional model was favoured by significant increases in traffic and user engagement. Minube's website received more than 57 million visits in 2014 (65% YoY) and its app has been downloaded more than 2.3 million times to date. The importance of mobile and Minube's community -one of its strongest assets that helps it differentiate from competitors- is visible across the board, with 700,000 user generated recommendations (80% submitted via app) and 52% of all traffic being mobile.
The company has always presented itself as a different player in comparison to TripAdvisor, OTAs or travel metasearch engines. While competitors have slight advantages in different aspects (TripAdvisor with content and OTAs with transaction volumes), minube is trying to position itself as a different beast, with its main focus being on adding value in the areas of discovery, sharing and travel planning. "We know it will be hard to be as strong as others in terms of transactions, but we think our combination of assets is unique and we can take advantage of that. We add a lot of value where others don't", says Raul.
"Content is fundamental to achieve good levels of user retention and engagement, and not a lot of companies know how to combine those factors in a way that makes sense for the consumer.", he continues. A strategy that San Francisco-based Gogobot is also following, helped by more than $40 million from strategic investors in the travel space such as HomeAway.
But Minube is not done yet. While international traffic has doubled over the past few months, Raul admits that the company's focus in the near future is in increasing its international presence. Something that they hope to achieve by letting the product speak for itself. "We think our product will help us raise awareness in the travel space and help our marketing strategy", Raul says. "Our newest feature that allows users to create beautiful photo albums is a step in that direction, and we'll continue to launch stuff that increases user engagement and drives international users to our app".
In order to scale and continue working on product development, the company is starting to explore opportunities for its Series A round -it raised €1 million in 2013 from Kibo Ventures, Bonsai VC and Sputnik Ventures-, which they hope it will be led by international investors.
"The big question we're facing right now is whether we can scale the company and become a €5, €10 or €30 million business in the next few years. We think we have something special in our hands, and we're going all in", Raul concludes.