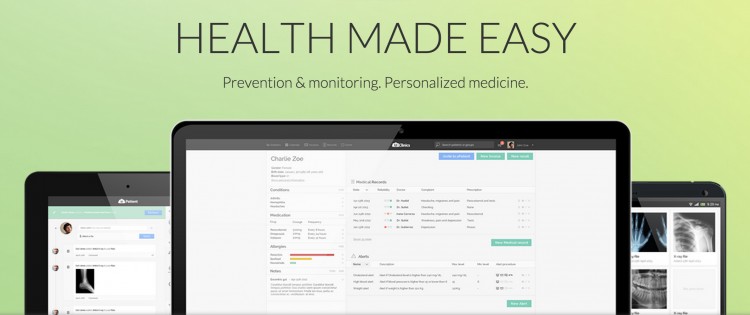 Technology's impact in the health sector has been wide-ranging, but two key areas that have been heavily affected by tech over the past few years have been personalised medicine and the prevention and monitoring of diseases.
These two areas are, precisely, where Medtep has been focused its efforts since it was founded in 2011 in the city of Barcelona.
The history of Medtep is quite similar to many other startups that have been created over the years. Jacob Suñol, one of its co-founders, developed the first version of the software to fulfil a need his father and other doctors had.
"Jacob's father was tired of using antiquated management software and wanted a simple tool that allowed him and his colleagues to track patients and to follow their medical history", Medtep's CEO Pablo Pantaleoni recalls.
Pablo had met Jacob in 2008 while the former was working on his first startup in Switzerland. After conducting some market research to study the potential of what Jacob had built, they both decided to start working on the business on a part time basis.
Medtep's first version was a software to manage patient's historical records. "We started off by focusing on a product that small private clinics could use", Pablo says. They followed this model throughout 2012 and worked with clients such as MotoGP, managing the medical history of its riders.
However, a new advancement in the intersection between health and technology would spark the development of Medtep's current software. "Jacob is the visionary", Pablo admits. "While doing some business strips he clearly saw the impact wearable technology and apps could have in the future of medicine".
Medtep's co-founders saw a significant gap between the prescriptions and treatments a doctor can suggest and the amount of information that patients have but don't provide back, mostly because of not having the right mechanisms to do so. "Once you're out of the clinic the communication between doctors and patients is lost, but wearables and the software that we have built allow this relationship to continue", he says.
Medtep: personalised medicine and treatment prevention and monitoring
Through the tools the company has developed –uClinics and uPatient– and the integration with wearables and its apps, users can manually or automatically submit relevant information to its doctors. "It's all about building a personalised medicine environment, making it possible for users to improve their daily habits and for doctors to better follow them", Pablo explains. The platforms works as a feedback loop, integrating user generated data with that provided by the users.
Medtep is free for patients and doctors. The company's clients are big insurance companies and pharmaceuticals who might use the platform to conduct clinical trials or to provide it for free to doctors and clients. The company is also experimenting with different business models, including a subscription model where users would pay a low monthly fee in order to use the software while telcos and insurance companies help in its distribution. The latter is being tried in the US and Latin America.
According to Medtep, sales in 2014 reached $350,000 and the company expects to double its revenue this year, as it continues expanding in key markets such as the US and Latin America.
In order to do that, Medtep recently raised a $2 million round led by Mexican fund Stella Maris Partners -which has previously invested in various healthcare startups-, La Nevera Roja's co-founder Iñigo Juantegui, his father and Telepizza's CEO Pablo Juantegui, as well as Carlos Gallardo, the son of Almirall's president, one of the biggest pharmaceuticals in Spain. "Smart money", says Pablo.
In this new phase Medtep will move its headquarters to San Francisco while keeping all of its development, product and marketing teams in Barcelona, where Jacob Suñol will continue to be based.
With companies like Apple, Google and others showing an increasing interest in the health sector and direct competitors such as Filament Labs or Omada Health building significant war chests, Medtep wants to continue to battle in a hot industry. "The market is heating up but it's also very young, with lots of opportunities in coming years", Pablo concludes.