Artists and fans from around the world who attend Diversity Festival in València this summer will be treated to a performance by Colombian-born Latin and Urban superstar KAROL G, who returns to Spain for the first time in three years. The music festival is focused on the intersection of technology, creativity, sustainability and care for the environment.
Held across three days from July 21st to 23rd at the spacious and futuristic Ciutat de les Arts y les Ciències, Diversity Festival aims to "transmit new social languages," through the powerful medium of music, according to the event's online manifesto.
For those interested in seeing the blue-haired superstar perform live in Spain, tickets to Diversity Festival are still available here.
This year's line-up includes over 50 musical acts including Måneskin, Christina Aguilera, Iggy Pop, Armin van Buuren, Black Eyed Peas, H.E.R., Martin Garrix, Nicki Nicole and Ozuna.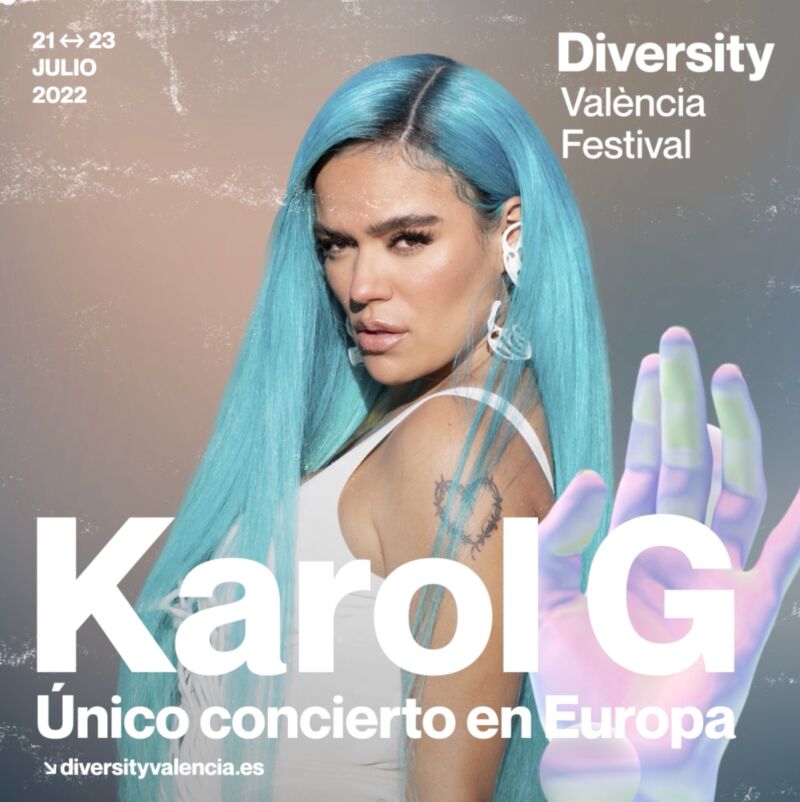 Following up her latest smash hit with Niki Minaj, TUSA, and her recently released single PROVENZA, KAROL G has won numerous top industry awards including Billboard's Female Top Latin Albums Artist; Latin Grammy awards for Best New Artist and Best Reggaeton Performance; Artist of The Year, 2022 and Song of The Year, 2021 from the Latin American Music Awards, and many more.
Counted as the only Latin female artist on Spotify's Top Track list, globally, KAROL's message of female empowerment has earned her global acclaim, with her albums KG0516 (which Spotify lists as the most successful production by a Spanish-speaking artist), and Unstoppable (which critics hail as the first solid entry by a woman in the Latin trap movement) serving to open up entire markets to other artists from the Spanish-speaking world.
In addition to the BICHOTA singer comfortably inhabiting YouTube's Global Music Videos Top Ten, the Medellín-born singer was recently awarded a "Break The Rules" award at Billboard Magazine's Women in Music gala for her work in defying the expectations of the music industry.
"I think I speak for all of us when I say she is an inspiration," said singer Sabrina Claudio at the event.