The Kairos Society will be hosting the Kairos EU Summit in Barcelona from October 19-21 with over 200 of the world's brightest entrepreneurs tackling Europe's most pressing challenges.
Kairos is a community and fund that focuses the next generation on problems worth solving. Having collected over $25 million for its venture fund and supporters such as Tim Draper, Bill Clinton and Richard Branson for its community, Kairos is serious about tackling global issues.
Speakers at this year's Kairos EU Summit will include renowned journalists and some of the world's brightest entrepreneurs.
Founded by President Daniel Dippold, the Kairos EU Summit is co-organized by the Gaudi World Congress and will bring together over 200 entrepreneurs and over 75 of the world's most influential industry leaders.
Dippold has built three companies, one of which was measuring emotional intelligence, and the other two being Ewor – which increases Europe's innovation power by enabling entrepreneurship in risk-averse environments, and Unlimitix – an online academy focusing on alternative performance strategies.
The event in Barcelona is committed to solving Europe's biggest challenges in:
Immigration
Healthcare
Education
Climate Change
These challenges will be looked at from different angles, such as AI, Blockchain, and Philosophy and Ethics.
During the event, the world's most renowned experts will host intimate think-tank sessions to brainstorm solutions, which will later be executed by Kairos' partner initiatives.
Think-Tank sessions at the Kairos EU Summit will give a select audience front row seats to innovation in practice and the opportunity to see their ideas and perspectives brought to life by individuals who live and breathe innovation.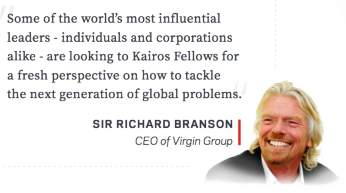 Kairos is the source for some of the world's top talents who are always searching for new challenges to take on. It counts over 1,000 fellows and 5,000 alumni in the world, including 300 in Europe alone.
There will also be interactive fireside chats with the most influential business executives, founders and politicians. Engaging discussions between pre-eminent thought leaders in the healthcare and education space, paired with intentional opportunities for audience engagement.
Founders in Kairos' network  have collectively reached more than $3 billion in market capitalization, as well as $650 million in capital raised. Successful examples are Periscope, Freenome and Nanoly, which are transforming their industries and operating at the very edge of innovation in their spaces.
The Kairos EU Summit is co-organized by the Gaudi World Congress, which is named after the creator of Barcelona's iconic Sagrada Familia, Antoni Gaudi.
One hundred years ago the creator of Sagrada Familia developed a multidisciplinary and original mindset that helped him to design his masterpieces.
His creative school of thought was ahead of its time, and now after almost a century, his legacy has inspired the Gaudi World Congress.
On October 19, the 3rd Gaudi World Congress in Barcelona will be joining the past and the present in order to be ready to create a better future.
Originality is going back to the origins, and this is why during the whole day organizers have created a forum for inspiring speeches, meaningful conversations, and long-lasting encounters where we will be able to re-discover already existing and learn to see what nobody has seen before.