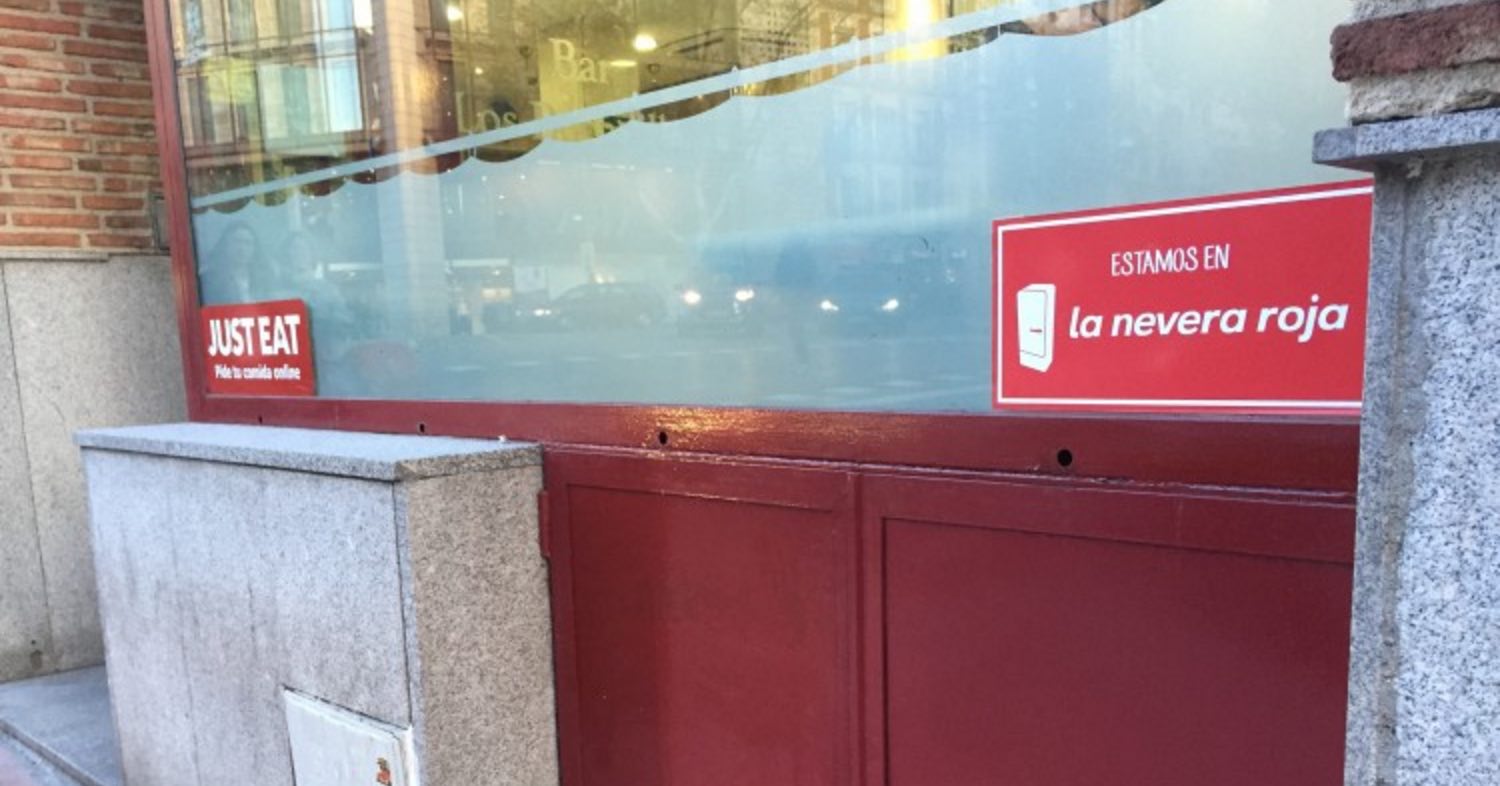 Less than a year after Rocket Internet acquired La Nevera Roja for €80 million, the food delivery company based in Madrid is about to be sold again, according to multiple sources close to the situation.
Terms of the deal were not disclosed.
Just Eat is going to get its hands on the company once founded by Jose del Barrio and Iñigo Juantegui, becoming a de facto monopoly in the Spanish delivery industry with approximately 6 million annual deliveries.
While I understand that the transaction between Just Eat and Rocket Internet will be closed soon, the Berlin-based giant is waiting to complete the sale of other business units in its Global Online Takeaway Group to make an official announcement.
Global Online Takeaway Group is the name of the holding company Rocket created in February of last year when it acquired at least 7 food delivery companies in two different continents, including La Nevera Roja and Pizzabo (Italy). At the time, Rocket also announced a €496 million investment in Delivery Hero, one of the bigger companies in the sector and a competitor of FoodPanda.
Since its IPO in October 2014, Rocket's stock price has dropped by more than 50% and currently trades at €18.80. At the time of the IPO, the German giant had a market cap of €8.4 billion. Rocket's current market cap stands at €3.10 billion, still the most valued technology company in Europe.
Rocket has come under strong scrutiny by investors and the media in recent times. According to Reuters, the company decided at the last minute to put HelloFresh's IPO plans on ice due to internal turmoil and significant differences with Kinnekiv, the Swedish investor firm that controls 14% of Rocket's shares and is also a major investor in many of its subsidiaries.
On the other hand, UK-based Just Eat's share price rose 40% over the past 12 months while orders increased by 57%.
In October 2015, the Financial Times wrote about "the German ecommerce group struggle for profitability", citing numerous analysts and investors who have, for a long time, complained about Rocket Internet's complexity. Rocket has lost a number of key senior managers over the past few months.
Co-founder Oliver Samwer talked about these and other issues at London TechCrunch Disrupt in an interview on stage.
According to my sources, Rocket is also planning significant layoffs at Linio, one of the largest online retail stores in Latin America. These sources say that 30% of Linio's staff could be let go in the next few weeks. Linio currently has 1,500 employees across the region.
A 12-month acquisition
La Nevera Roja's acquisition by Rocket Internet was the largest exit by a Spanish technology company in 2015, not counting Mitula's IPO on the Australian Stock Exchange.
Although the price of the acquisition was never officially announced, I understand it was close to €80 million and mostly in cash.
La Nevera Roja's co-founders left the company after the deal was closed and they have now embarked on different projects. Iñigo Juantegui is about to launch a new startup and Jose del Barrio recently unveiled Samaipata Ventures, a €20 million venture fund focused on the ecommerce sector.
The acquisition took place at the right time for La Nevera Roja and its investors, who I understand also received offers from Just Eat and other food delivery companies before the deal was closed in February of last year.
At the time of the acquisition, Just Eat and La Nevera Roja had similar market shares in Spain. Just Eat has traditionally been a strong player in smaller Spanish cities, with La Nevera Roja being in a close second position in Madrid and Barcelona's urban areas.
Since the acquisition took place, the differences between Just Eat and La Nevera Roja have widened, and nowadays Just Eat accounts for about 4 million annual deliveries while La Nevera Roja takes in about 2 million.
As a result of La Nevera Roja's acquisition by Just Eat, the Spanish market will now be controlled by one single player, creating a monopoly in the local food delivery sector.
This is Just Eat's third purchase in Spain, after it bought Sin Delantal in 2012 and Food2U in 2015. Evaristo Babé and Diego Ballesteros, founders of Sin Delantal, moved to Mexico after the deal, built Sin Delantal Mexico, and sold it again to Just Eat.
La Nevera Roja was acquired at its peak
Various sources close to the situation have told me that after the acquisition, Rocket Internet imposed strong limitations on the day-to-day operations of La Nevera Roja, which included cancelling the company's well known TV advertisements and other features that accounted for a large portion of its sales. Significant changes in the company's management team also took place.
"In a matter of weeks, sales fell dramatically and La Nevera Roja has never been able to recover itself. This is just the first step in Rocket's strategy to sell many of the companies they acquired in January. The first steps in the company's failed strategy of building a global food network", an industry source who wishes to remain anonymous said.
I've reached out to Just Eat, Rocket Internet and La Nevera Roja and will update this article if I hear back from them.
Less than 12 months after it closed, Spain's largest acquisition of 2015 might be soon gone gone as Rocket Internet's potential food empire tumbles.
UPDATE:
La Nevera Roja's CEO, Iñigo Amoribieta provided this statement to our friends at Hipertextual. In it, the company does not confirm nor deny what Novobrief has published:
"Since I joined La Nevera Roja, there have been acquisition rumours from various companies. As anyone can imagine, La Nevera Roja would represent a strategic acquisition for Just Eat, given our strong position in Spain, and for other players in the sector that would want to have a presence in Spain.
Contrary to what the article says, the author never got in touch with us and, La Nevera Roja, far from suffering a deceleration in its sales over the past few months, has been breaking records in orders, revenue and margins. This seems like a way, using the press, to destabilise a competitor o decrease the price of, as we're saying, what could be a strategic acquisition.
For now, we don't have anything else to add."
On December 26 2015 I did ask LNR's CEO about the possibility of the company ceasing its operations, which is what the first rumours I heard said. This morning, minutes before the publication of this story, I sent three emails to La Nevera Roja, Rocket Internet and Just Eat to get their side of the story. In full honesty, I probably should have done it earlier than that.
UPDATE #2:
La Nevera Roja has sent me a new statement, denying that the sale has been completed:
"Like any great and strategic business, La Nevera Roja has been approached at various times by parties for a corporate transaction, but there has been no sale of La Nevera Roja. La Nevera Roja has continuously broken records in orders, revenues and margins through 2015, a trend which continues into 2016."
UPDATE #3:
Rocket Internet has confirmed the news. The German company has sold its food delivery subsidiaries in Mexico, Brazil, Italy and Spain for €125 million.
"The transaction is in line with Rocket Internet's strategy to divest non-core operations that are not market-leading. The sale of La Nevera Roja and PizzaBo further reduces the complexity of Rocket Internet. The LPV including cash remains at the latest disclosed figure of €7.2billion as of 30 November 2015.
(…)
It is anticipated that the transaction in Spain will be completed by the end of Q2 2016, as it is still subject to regulatory approval from the Spanish competition authority, the Comisión Nacional de los Mercados y la Competencia."