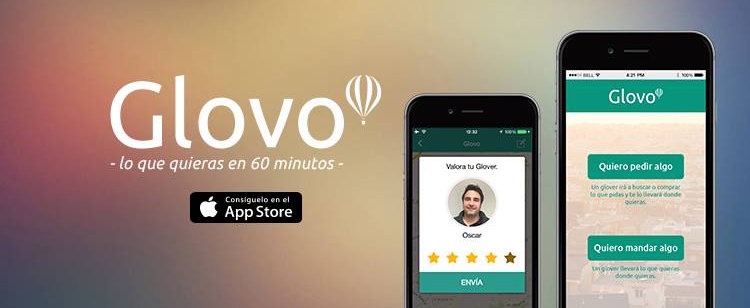 Courier delivery services, at least in Spain, haven't evolved much over the past few decades. Yes, there are companies that have introduced more delivery dates and hours (hello Sundays!), but the companies who control the industry and delivered most of the 215 million packages sent in 2014 in Spain, are still the same ones from 10 years ago.
However, lately there's been an influx of tech startups that are trying to add various innovation layers to courier services, providing users and those in charge of delivering the products with basic tools to make their lifes easier.
Enter Glovo, a Barcelona-based startup that has just launched in the city.
Glovo is quite similar to Postmates, in the sense that it allows consumers to buy stuff from local stores using their phone and have it delivered in less than 60 minutes. Via the app users can ask for any item that's available in local stores, and the startup will act as an intermediary alerting delivery men of the request.
Glovo is currently part of Conector's latest accelerator batch and has raised €140,000 from business angels.
The company's business model is to charge €5.5 per delivery. Glovers (or delivery men) get to keep 70 to 80 per cent of the delivery fee and the rest goes to the startup. The commission earned by glovers varies depending on their experience and reviews from users, and according to the company's website, they can work for the company both on a full and part time basis.
Interestingly, co-founder Oscar Pierre tells Novobrief that Glovo is not currently planning to work with local stores. "What we do is we send our glovers to the closest store that has what you requested", Oscar says. "Stores are not part of the transaction and we buy the stuff as if we were normal consumers".
All transactions are done through the app, and no money is actually exchanged between the glovers and the consumers.
The startup also offers its services to companies, allowing them to send documents or items to any address in the city and have them delivered in less than an hour. Asked about the possibility of users utilizing the app to send illegal stuff, Oscar says that when users sign up they must agree to "not use the platform for illegal purposes".
Glovo is not the first startup of its kind to launch in Spain. iKiora has been active for quite some time, but it has yet to gain significant traction in the markets it's available in or to launch a mobile app for consumers.
Two other projects in the very same space will be available soon: Comprea (a clone of Instacart that's based in Valencia and has the support of Plug and Play Spain) and Madrid-based Veinticuatrosiete. Both startups focus on delivering groceries to consumers, while Glovo -at least for now- doesn't want to limit itself to any specific items.
Interesting times ahead for courier delivery services in Spain. And Uber is in the game too.