A newly released report by the United Nations' Intergovernmental Panel on Climate Change (IPCC) has ranked transitioning to renewable energy sources among the most urgent actions needed to combat climate change. 
However, the energy transition is a colossal challenge, and it's clear that even the biggest players in the industry can't tackle it alone.
To accelerate innovation in the space, startups are crucial.
This is the key message that emerged from the first Corporate Startup Stars Roundtable, organized by global open innovation platform Mind the Bridge.
The event, held in Barcelona, brought together innovation managers from large corporations including Iberdrola, Snam, Repsol, Enel Group, and Enagás, to discuss best practices for driving innovation through collaboration with startups.
Energy companies today are facing more pressure than ever to innovate.
"The ultimate goal of innovation initiatives should be to provide clean energy solutions for a better future", said Sandra Blázquez Borrás from Repsol.
But how can companies do this in a way that aligns with their strategic goals and corporate culture?
Three overarching themes emerged as solutions to unlock innovation.
Fostering an intrapreneurial culture
"Startups often develop solutions faster than established companies, making them valuable partners for innovation", pointed out Emilio Martinez Gavira from Enagás.
However, large corporations can and should also foster a culture of innovation within their own organizations.
"People contribute and develop new solutions if you know how to properly incentivize them," Gavira added. 
By empowering employees to think like entrepreneurs instead of project managers – in other words, promoting intrapreneurship – companies can leverage their creativity and expertise to drive innovation.
On the other hand, "Investing in a third-party fund can provide knowledge of technology, deal flow, and insight into an industry vertical that may become relevant in the future", said Oscar Cantelejo from Iberdrola.
Investing in startups both directly as well as through third-party funds, can limit companies' risk and also help them stay ahead of the curve by identifying new trends. 
Embracing failure as part of innovation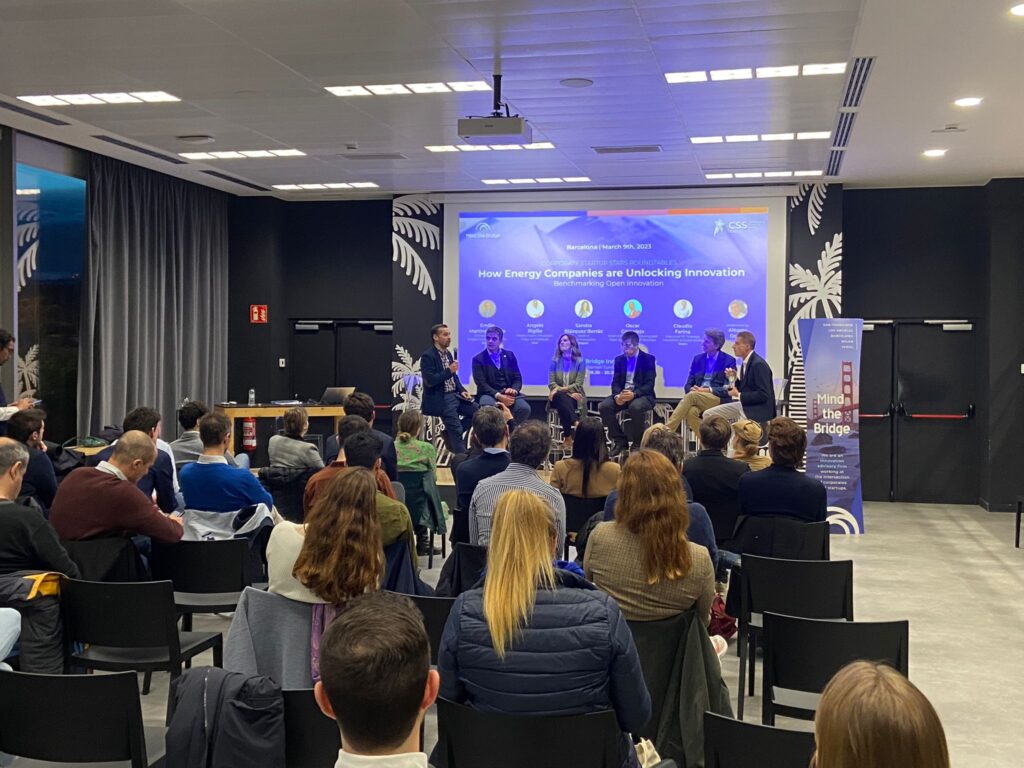 The panelists stressed that companies shouldn't be afraid of failure when it comes to innovation. "When you are always successful, you are not likely doing anything new," said  Alberto Onetti from Mind the Bridge.
Innovation requires the willingness to take risks and experiment with new ideas, even if they do not always yield success. 
Claudio Farina from Snam agreed that innovation entails the possibility of failure.
"The most important thing is to learn from those failures and use those lessons to improve," he pointed out.
Sustainability is a key driver of innovation in the energy industry.
This goal is shared by many companies in the industry, who are working to develop new technologies and solutions that reduce carbon emissions. 
Exploring the venture client model
The venture client model, which allows companies to benefit from startup solutions without being involved in their equity, is another approach that is gaining popularity.
"Rather than investing into startups we prefer to become their first client", pointed out Angelo Rigillo from Enel.
"The venture client model can be a successful approach to innovation, as it allows companies to benefit from startup solutions without risking destroying their innovative approach as in an acquisition", he added.
To build successful partnerships with startups, it is key to have a clear budget for POCs, incentives, and processes in place.
This includes defining KPIs that align with the company's strategic goals.
The energy industry is undergoing a period of rapid change and innovation.
To stay ahead of the curve, companies are turning to open innovation and startup partnerships to unlock new opportunities.
By fostering intrapreneurship, collaborating with startups, and promoting a culture that embraces risk, companies can leverage their employees' and partners' creativity and expertise to develop the sustainable energy solutions of the future.