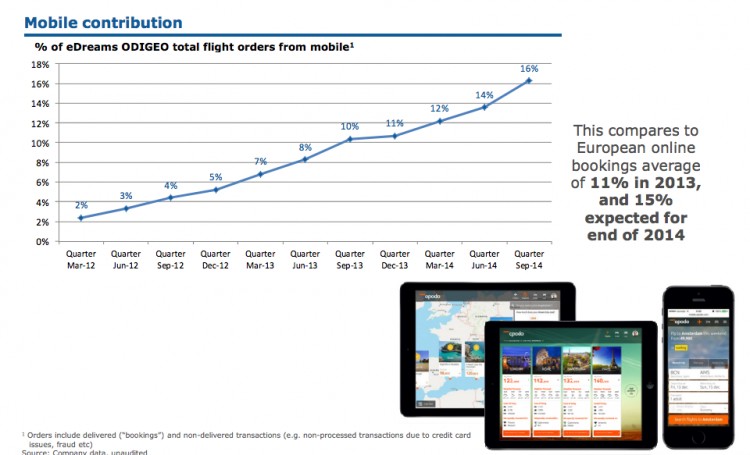 eDreams Odigeo posted a €1.7 million profit in the first six months of its fiscal year (ending in September 2014), the same amount as a year ago. The company did suffer a significant reduction in its EBITDA, which decreased 25% to €46.3 million, and reduced its debt position by 7% to €343 million.
These are the first results the Spanish travel company has published since its fight with British Airways and Iberia in October that led the CNMV to suspend trading of eDreams Odigeo stock momentarily. Both parties reached an agreement few days later.
Although the company experienced a decreased in bookings of 1% compared to the same period a year ago, gross revenues increased 3% to €219 million thanks to a 5% uplift in revenue per booking.
In a presentation eDreams Odigeo points out that this increase in margin per booking affected both flights and other types of reservations.This could be interpreted as a good sign for the company as margins in the travel sector continue to decrease on a quarterly basis. Flights represented 78% of eDream's revenues (€171 million).
Mobile accounted 16% of all flight bookings in the first six months of the year, up from 10% a year ago.
For the whole 2014-15 fiscal year the company expects revenue to be flat and EBITDA to reach €90 million. eDreams' investments will also decrease in coming months (Capex to be reduced to €30 million).