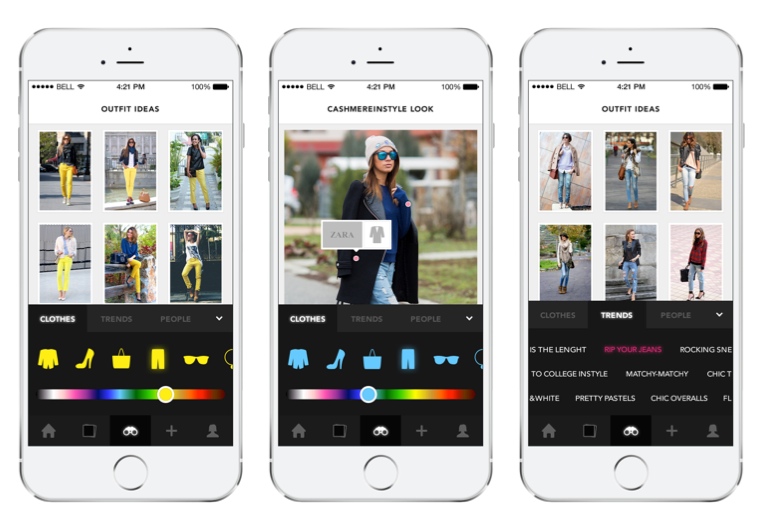 If there was one missing piece in Bilbao-based Chicisimo's puzzle, it was an app. The social media site for fashionistas has been live on the web for two years and more than 300,000 users visit it every month (1 hour per week) to check the latest fashion trends and to get inspired, but mobile users were out of luck and had to rely on Chicisimo's mobile web version.
Not anymore. The company has just launched its first iOS app to help women decide what to wear, allowing them to save and organize the more than 2 million looks that have been uploaded to Chicisimo by its users over the years. "Every day, millions of women ask themselves 'what should I wear?'. At Chicisismo we are building a platform for girls to inspire others and get inspired, offering ideas about what to wear that they might not have considered before", says co-founder Gabriel Aldamiz-Echevarría.
To do this Chicisimo claims to have developed a 'social fashion graph' algorithm that parses through all the looks to select the ones that match with certain kind of clothes, colors or styles. The iOS app has three main tabs: clothes, trends and people. Users can then select any of those depending on their needs and Chicisimo will offer suggestions based on color, style or fabric. In theory, this will allow the company to have a global map of what brands, clothes and colors that are used the most by users, which can be interesting data for brands and other companies associated to the fashion industry.
Chicisimo has always been a social platform for fashionistas and that is still clearly visible when using the app. The looks available not only come from fashion bloggers, but also from regular women that are looking to build a fashion social graph by following others and saving specific items.
The company has been testing a beta version of the app for the past 5 months in Colombia and they have drawn some interesting conclusions in comparison to the web version of the site.
Retention is much higher on the app: 10 weeks after a user has installed the app the retention rate is 10X greater than on the web.
The average visit is 8 minutes, three times per week.
Chicisimo thinks that these figures will be even bigger outside of Colombia, in countries where they have a bigger presence. Time will tell.
Monetizing Chicisimo's app?
The launch of the iOS app comes after another significant announcement from the company, Chicisimo Social Sopping. A specific section on its website that allows users to buy the clothes they like directly from the brands, making money on each sale.
However, this Social Shopping functionality is not available on the app. Right now the sole purpose of the application is to help women decide what to wear, but it will be interesting to see if ecommerce is integrated into it in the near future, which could help Chicisimo boost its -undisclosed- revenue numbers.
The 7-team company was founded in 2010 and it has remained small since then. To date it has raised almost $1 million from Spanish Venture Capital firm Vitamina K and local business angels such as Iñaki Ecenarro (Trovit, recently acquired for €80 million by NEXT Co.), Eneko Knorr (Ludei) and Diego Corral.