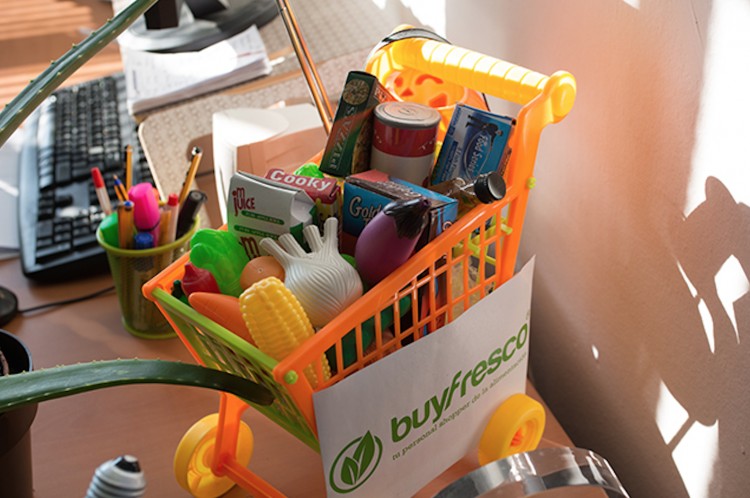 Spanish meal planning and shopping platform Buyfresco has closed a €165,000 round, bringing the total raised by the company to half a million euros.
Half of the money came from Daruan VC, the seed stage Venture Capital fund founded by David Ruiz de Andrés in 2014. Buyfresco's previous backers (Plug and Play Spain, Danka Capital, Mola and business angel Carlos Domingo) also participated in the round.
Founded by Andres Areitio in 2012, Buyfresco operates as a grocery delivery service that supplies recipes and required ingredients to consumers.
However, this wasn't the company's main business model when it started.
"Our idea was to build an online supermarket, similar to what Alice.es was doing at the time", Andres tells Novobrief. "We wanted to act as an intermediary, also offering recipes to our consumers, but after six months we quickly realized there were better options out there".
Andres says that Berlin-based HelloFresh's success inspired them to pivot, building a subscription based business  that offers consumers the ability of receiving recipes and fresh ingredients on a weekly, bi-weekly or monthly basis.
The company claims that so far they've delivered 3,000 orders and 30,000 recipes (each order contains ten meals) which, according to Buyfresco's website, range from about €35 to €45 euros.
Although Andres declined to give specifics on the current size of Buyfresco's business, he did say that their margins are "higher" than traditional online supermarkets, given the greater margins associated to fresh products.
The three-person team expects ecommerce penetration in the Spanish grocery delivery market to reach 5% in the next five years, up from current rates of 2%.
Amongst Buyfresco's competitors there are local players such as Yocomobien, which Andres says they are "similar in size", and much bigger companies like HelloFresh (backed by Rocket Internet and with almost $200 million in funding) or Blue Apron (NY-based, $8 million raised).