When Spanish startup Gïk Live! launched the first batch of its "blasphemous" blue wine, little did aficionados believe that it would soon be available in over 25 countries.
As the world's first naturally blue wine, purists saw the neon hue as an abomination; however, the process for making it is made from 100% blended grapes.
It now joins reds, whites, and rosés on the tables of holiday gatherings around the world.

"We feel really honored to witness our revolution going so far; especially, when we realize how many different people are enjoying Gïk," said the creative team of six, consisting of Iñigo Alday, Imanol López, Jen Besga, Gorka Maiztegi, Aritz López, and Taig Mac Carthy.
According to the founders, this 11.5% alcohol blue wine comes from different Spanish and French vineyards, whose grapes are transformed into Gïk. The team works with grapes from different areas of Spain, whose color and flavor are "improved through food tech." Gïk has no denomination of origin.
This food tech includes a pigmentation process. "Firstly a base is created from a mixture of red and white grapes, which is then added to two organic pigments; indigo and anthocyanin – which comes from the very skin of the grapes used to make wine."
Spain is well known for its pitchers filled with sangria, but the country has a rich history in wine making going back centuries.
According to Wine Tourism Spain, "In Spain, wines are classified into different wine regions, each with their own set of wine laws and quality standards. Currently, Spain has 69 major wine regions, the more correct term being "Designation of Origin" (D.O.)."
Gïk's wineries are "located mainly in La Rioja, Zaragoza, and Courthèzon."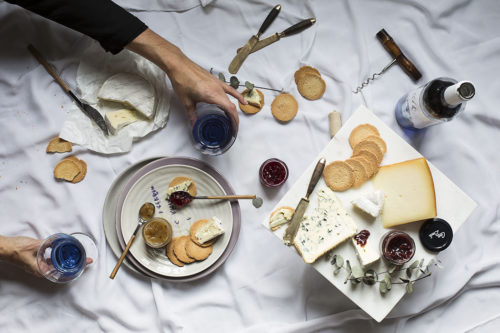 La Rioja, is according to Serious Eats, located "in north-central Spain on the Ebro River. Wines of Rioja are a great blend of ripe fruit and earthy flavors—they have one foot in the New World and one foot in the Old World."
Zaragosa's wines "combine ancient native varieties such as Moristel with recent international imports such as Cabernet Sauvignon. Investment in modern winemaking equipment has been critical to the region's recent revival and lighter, fresher styles," according to Wine-Searcher.
Courthézon is a commune in the Vaucluse department in the Provence-Alpes-Côte d'Azur region in southeastern France by the Rhon River and is an area famous for its Cotes du Rhon variety. Interestingly, almost 20 years, a South African winery came out with a spinoff and play on the name Cotes du Rhon, calling their wine "Goats do Roam," which angered the French to no end, much like Gïk has done in coming out with a blue wine.
But backlash to disruption is nothing new to the Gïk team. "Try to forget everything you knew about traditional drinks," they say. "Try to unlearn any previous concept and get ready to let yourself be guided just by your own rules."