It is no surprise to anybody that pets are part of modern day families. Usually underrated, however, is both the myriad of pet health issues, and that these can be quite costly.
The high expense of health pet care is a problem that Barkibu, a Spanish e-health startup for pets, has been targeting for more than five years. After raising €4,7 million at the beginning of 2021 to fund the expansion plans, including to the American and other European markets, Barkibu is now planning on becoming "the Apple Health of petcare" —and aiming to raise a series A funding next year.
They are on the path to achieving this status, thanks to their cutting edge AI-powered platform. The Artificial Intelligence technology identifies pet illnesses and records their information, both helping to reduce animal discomfort and dramatically augmenting accuracy in diagnostic processes.
This e-health startup provides a service that has been indispensable throughout the pandemic, and the 24/7 support and analysis will continue to be useful to pet owners beyond COVID.
The founders of Barkibu know that is a groundbreaking moment in the industry and they want to be on top of the game in a global pet ecosystem that continues to grow non-stop. It's been a long and exciting road for the founders of this startup and they have a confession to make: they love pets and want the best for them.
The time of AI
Barkibu was founded in 2015 in A Coruña, a city in northern Spain, by Pablo Pazos, Patricia Seoane, Enrique Torres, Álvaro Gutiérrez and María González. At first Barkibu was a marketplace for veterinarians and clients to meet for online
consultation. At one point, they had 15.000 veterinarians responding to questions from all over the world. They like to think that they were an Uber for pet healthcare.
After a while, though, the founders of Barbiku realized that a scale-up would not be possible, and their business model didn't gain any traction. Looking to pivot in another direction, they instead discovered in AI technology the possibility to
expand in the way they needed.
According to Barkibu's founders, they can now diagnose and detect several diseases thanks to their AI technology. With an enormous amount of recorded data from real client cases, they can compare actual symptoms of the same species, and make an informed diagnosis.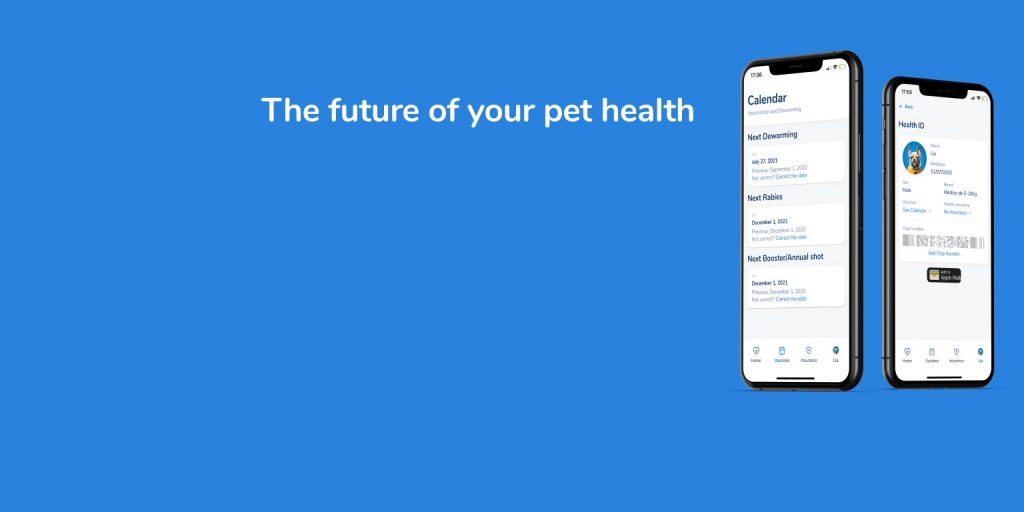 Barkibu offers two products. The first is a subscription service for consultations, as well as the insurance to cover the cost. The second product is the Barkibu app where pet owners can talk either to a chatbot or live with video to a professional veterinarian. This means that pet owners can evaluate the severity of health issues in their cats or dogs, find the best clinic to go to if necessary, and discuss possible treatments—all without corralling their pets into the car and without leaving their homes.
In other words, through a mix of algorithms using real case data, Barkibu offers a telehealth platform with immediately available communication, plus a comprehensible insurance product that can help pet owners with the costs of
dealing with sicknesses and accidents.
Although they might compare their product to Uber, the founders of Barkibu want to be clear: they don't want to eliminate veterinary clinics. Instead, they are brokers in the vet assistance business, connecting pet owners and veterinarians.
With a monthly fee that depends on the animal's age, breed and other factors, the insurance can cover up to €3.000 in pet health care.
Maybe that is why Barkibu was the only pet startup invited to join the ITU-WHO initiative on artificial intelligence for health, an inter-agency collaboration between the World Health Organization and the ITU, which created a benchmarking framework to assess the accuracy of AI in health.
Let the pet money flow
In early 2021 Barkibu raised €4,7 million from funds like TheVentureCity, MundiVentures, CDTI Innvierte program and Leap Venture Studio. No surprise, considering that the global pet market is projected to reach $255 billion by 2025.
This fresh money is going to help the business grow and expand to other countries and regions. They already have the healthcare chatbot available in 30 countries, but the full subscription package of clinical visits and insurance is so far only available in Spain.
It took a while to develop the insurance product now Barkibu offers. To do so, they teamed up with German company Munich Re, the biggest reinsurance company on the planet, and for two years they were developing what now is one of their star products. With a monthly fee that depends on the animal's age, breed and other factors, the insurance can cover up to €3.000 in pet health care.
With a solid presence in Spain, Barkibu's next steps include expanding the insurance offer to European markets like Germany, France and the UK next year. Expansion to the US will follow soon after that, helped in part by the US investors that have already come on board.
The founders of Barkibu have confidence in how AI can reshape pet care for both owners and animals.