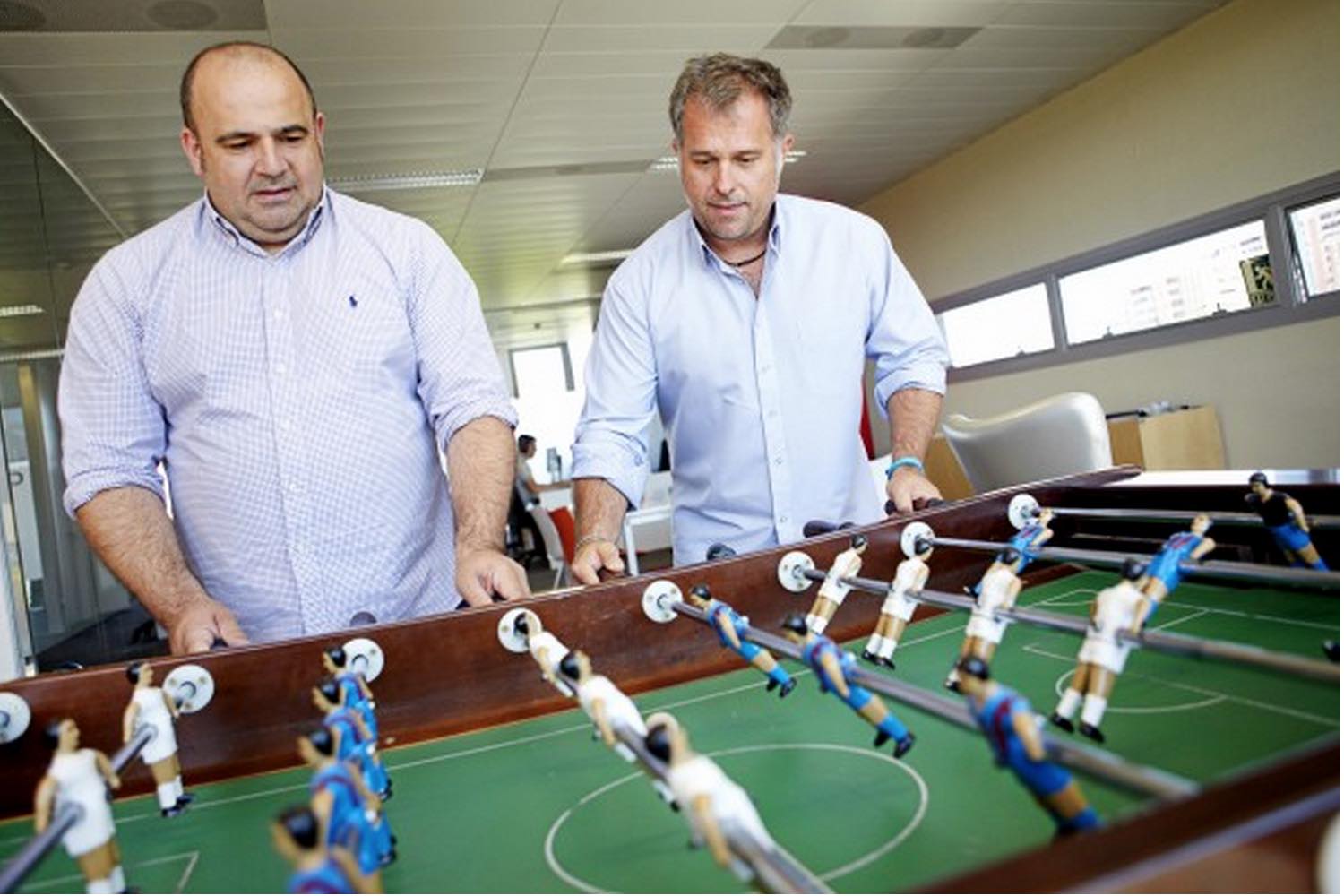 For quite some time, Carlos Blanco has been updating one of the best databases of startup exits there is in Spain. Soon he will have to add another company to the list: his own, Akamon Entertainment.
The Barcelona-based developer of social casino games for Latin America and Southern Europe has reached an agreement with Imperus Technologies to be acquired for $25 million in an all-cash deal, according to a statement published by Imperus.
"Imperus has the right, but not the obligation, to acquire Akamon by exercising the Option Agreement at any time prior to September 25, 2015, with the closing to occur on or before October 2, 2015", says the statement. Novobrief understands that Imperus has already made a significant down payment ($600,000) and this will be lost if doesn't exercise the option to acquire the company.
Imperus is a Canadian company that also competes in the social gaming space and floats on the Toronto Stock Exchange (TSXV). Prior to Akamon's acquisition, Imperus bought another online casino startup, Diwip. In its latest earnings report from July, Imperus claimed that they were "in discussions with additional social gaming companies", also adding that "further acquisitions will provide synergies that will accelerate the company's growth in this market".
Akamon is probably one of the companies they were referring to.
Akamon: $9m in revenue in H1 2015 and profitable
Founded in 2011 by Carlos Blanco (Grupo ITnet), Vicenç Martí, Jaume Ferre (Geenapp), Josevi Pons, Carles Pons, Dani G Blazquez and Axel Serena, Akamon has become one of the leading social casino companies in Europe, with more than half a million monthly active users in Latam and Southern Europe.
Akamon's portfolio of products range from traditional board games like checkers, dominoes or chinchón to slots and more gambling-like offerings. Most are built on top of Facebook, but it also has a number of titles that are aimed at mobile users.
The 100-person company has offices in Barcelona, Valencia and Tel Aviv, where it landed following the acquisition of a minority stake in gaming studio Xpinator, founded by the former CTO of 888.com, Zvika Alon.
Akamon had revenue of close to €15 million in 2014, up from €9.5 million in the previous year, and has been profitable since then. According to data provided by Dato Capital, the company had profits of almost €800,000 in 2014.
Since its founding in 2011, Akamon had raised close to $4 million from various local investors, including Axon Partners and Bonsai Venture Capital. According to official filings, Axon owns 13% of the company and Bonsai around 8%. The rest is on the hands of the company's founding team. Carlos Blanco, Jaime Ferre, Josevi Pons, Carles Pons, Dani G Blazquez y Axel Serena
Carlos Blanco and Jaume Ferre own 41% of Akamon through Pm5 Digital Entertainment Limited, a London-based firm they co-founded in 2011. 24% is controlled by JDC Media Holdin SL, which is owned by various Valencia-based entrepreneurs that launched Exelweiss, which would go on to become Akamon's studio in the Mediterranean city. CEO Vicenç Martí currently holds a 6% stake.
The graph below is not an exact representation of the cash payouts that will result from this deal, given the involvement of phantom shares and other stock programs with Akamon's executives and employees.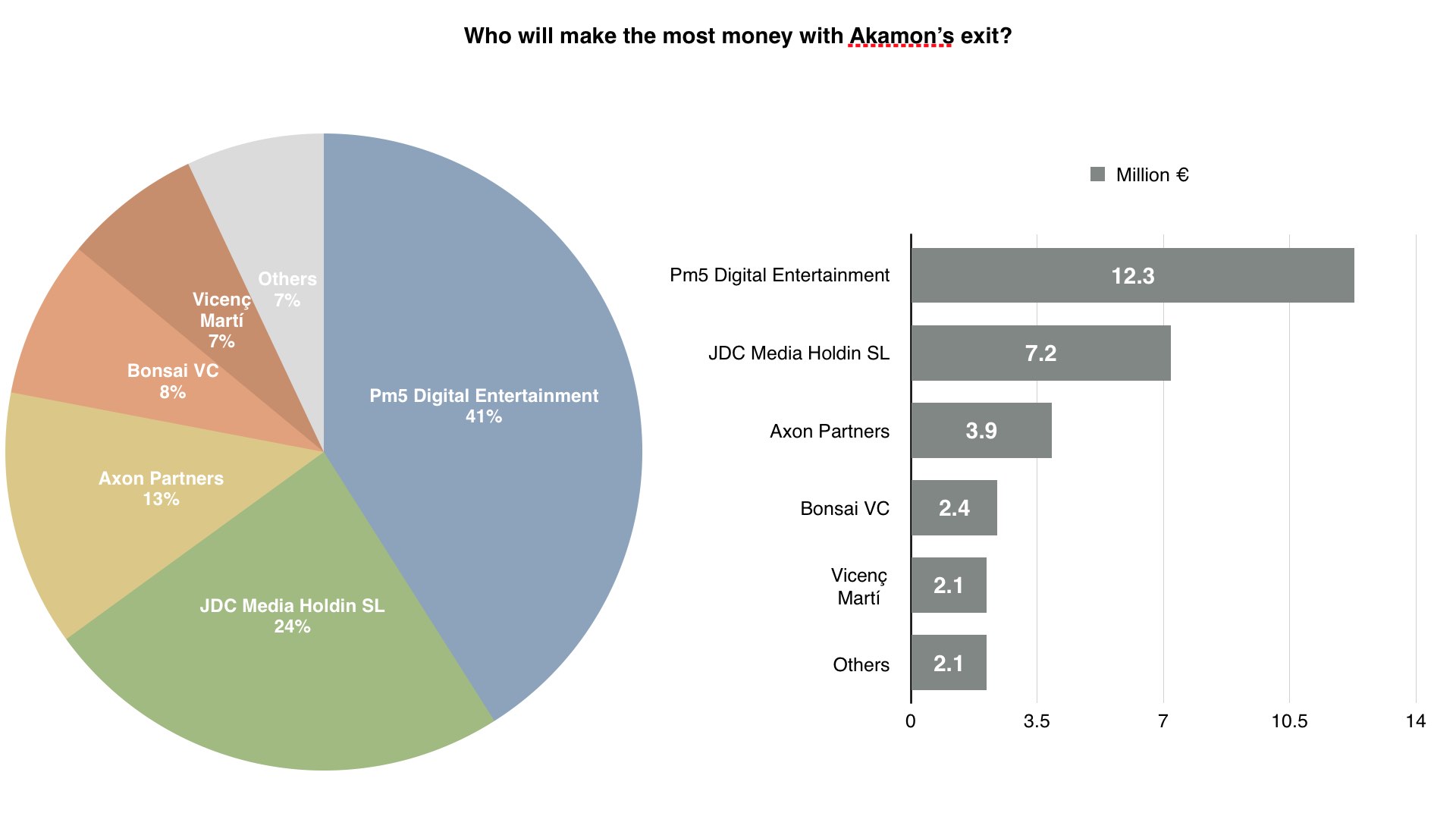 Good returns for Axon and Bonsai
The deal represents one more exit for Bonsai in 2015, the VC firm led by Javier Cebrián, after the acquisitions of Bodas.net and idealista. Novobrief also understands that the firm sold part of its shares in Wallapop -where it was one of its first investors- during the startup's $40 million Series B round.
On the other hand, Axon has been quite active in recent months on the investment side of things, backing Hot Hotels, Sentisis or Wayook. The firm also managed the selling process of La Nevera Roja to Rocket Internet and sold one of its portfolio companies -Just Eat India- to the German holding company.
Back-of-the-envelope calculations suggest that the deal represents a good return for Axon and Bonsai, in the 3X to 5X range.
Akamon's acquisition once again solidifies Barcelona's position as one of the leading gaming hubs in Europe. Socialpoint is arguably the biggest gaming company in the city and giants like King.com, Ubisoft or Gameloft also have large studios in the city.