Nobody is surprised by now that, in a world of increasing globalization, the demand for learning foreign languages has grown exponentially.
This is particularly true for Spanish, a language that has gained significant importance in the United States.
According to Dan Berges, an entrepreneur originally from Madrid and based in New York, Spanish is becoming slowly a second official language in certain estates of the country.
Berges spoke to Novobrief and told us how he embarked on a quest to establish a Spanish language school in the USA, bringing a unique and effective teaching method to the forefront.
This is the story of the Berges Institute, an institution that is making a mark in the field of Spanish language education in America.
The beginnings and the pandemic
The entrepreneur arrived in the United States with a passion for music but soon found himself drawn toward language teaching. How did this happen?
Initially intending to teach music, a shift in plans led him to pursue a master's degree in education in New York.
Alongside his partner, they ventured into developing their own deductive method for language teaching, differentiating themselves from commonly used inductive methods.
In 2013, the Berges Institute opened its doors on 36th Street and Fifth Avenue, with a modest setup of two classrooms.
"Over the course of six years, the Institute expanded to occupy around 3,000 square feet in both New York and Chicago. Employing 25 teachers and serving 1,200 students, the Institute experienced consistent growth until the unforeseen challenge of the pandemic struck", says Dan, excited to look back at his accomplishments.
But then the pandemic hit. The situation necessitated a rapid shift to online education platforms, a change that proved successful for the Institute.
"Students adapted to the virtual format, leading to a majority preference for online classes even after the reopening of physical classrooms", says Dan.
In response, the Berges Institute made the strategic decision to permanently close its physical locations and operate exclusively online, aligning with the evolving needs and preferences of its students.
Why Spanish in the US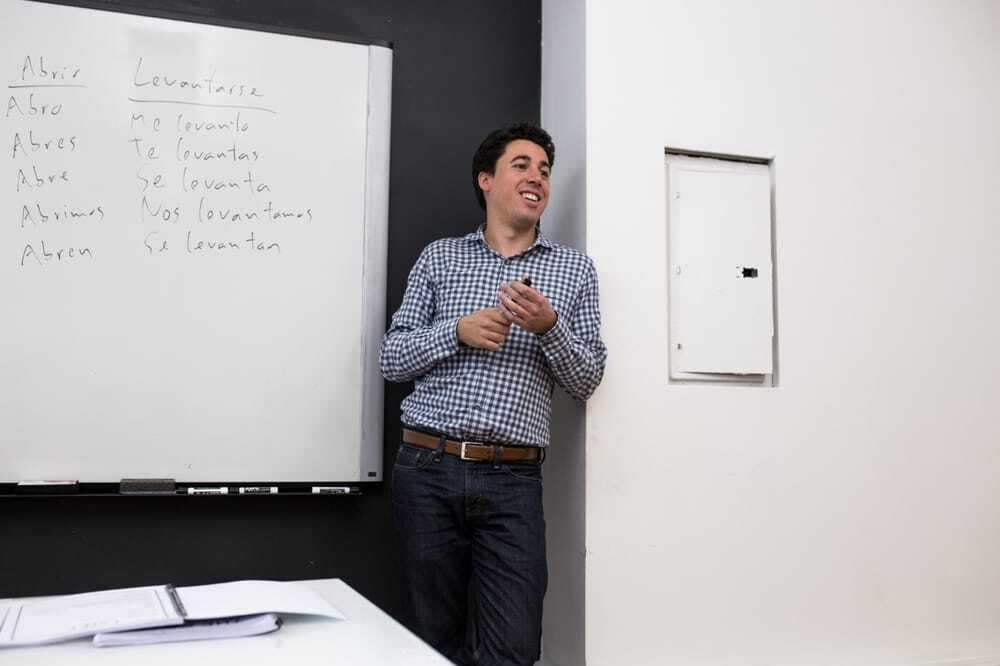 Berges recognized the demand for a different approach to Spanish language learning in the United States.
While the growing Latino population might suggest a reduced need for Spanish education, the reality was quite different.
A survey conducted with the Institute's students revealed that 62% of them learned Spanish for personal growth, mirroring the motivation behind learning English in Europe and Latin America. Others learned for family or relationship purposes, and some for professional reasons.
"Spanish learning, in this context, transcended pragmatic goals and became an intellectual pursuit", adds Dan.
The Berges Institute identified the need for a more deductive method that incorporated grammar-focused instruction.
While many existing methods relied on inductive approaches and natural language acquisition, urban populations sought a more structured approach to learning Spanish.
Establishing a Spanish language school in a competitive market like New York, particularly Manhattan, came with its own set of challenges.
"Building a substantial student base required time and careful financial management. The startup costs were high, and it typically took two to three years to reach a breaking point", comments Dan.
Apart from financial considerations, the Berges Institute primarily catered to private individuals, with a smaller percentage representing corporate clients.
According to Dan, Spanish has gained immense relevance in American society, becoming a de facto second language and deeply intertwined with the culture.
"Migration from Spanish-speaking countries and the widespread recognition of Spanish as a global language have contributed to its significance. In states like Texas, California, and Florida, where Spanish presence is pervasive, the language holds both local and national importance", adds the Spanish entrepreneur.
The value proposition
The Berges Institute's teaching methodology combines the study of Spanish language with elements of Hispanic culture.
It is primarily based on a modernized version of the Grammar Translation approach, incorporating conversation from the beginning.
The method follows a logical, building-block structure that introduces concepts gradually, reducing frustration levels for students.
As they progress, the curriculum expands to include content-based learning, extensive reading materials, and stimulating discussions.
According to Dan, while popular language learning platforms like Duolingo offer gamified and engaging experiences, the Berges Institute stands out for its in-depth grammar instruction and purposeful learning elements.
"Unlike platforms that may provide random sentences without proper context, the Institute's program offers clarity and purpose behind each element. It caters to a niche audience committed to mastering Spanish beyond the limitations of gamified apps", says the entrepreneur.
The Berges Institute envisions further market expansion beyond physical classrooms, building on the success of its online operations.
What advice would you give to other Spanish entrepreneurs trying to make it America? We ask Dan.
"Carefully manage cash flow, strive for positive cash reserves from the start, and maintain relatively healthy finances at all times. If you encounter a period of negative cash flow, have a solid plan in place to handle it", says Berges.
In the ever-evolving multicultural landscape of the United States, the Berges Institute's quest to bridge linguistic and cultural gaps through Spanish language education remains an inspiring entrepreneurial journey.
Soon Dan plans to open new branches in markets like Australia, India or the UK.