There's no question that health and fitness is a hot technology sector right now. Not only are giants like Microsoft, Apple or Google showing increasing interest in the area, but a wide range of startups are also offering consumers a way to stay in shape and, most importantly, keep track of their efforts and exercise levels.
8fit, the Berlin-based app and startup co-founded by Pablo Villalba and Pedro Solá, is a good example of this trend, as it promises users to 'take fitness in your own hands'.
Launched in early 2014, the app offers consumers custom workout plans and meals that are put together by a group of fitness and nutrition experts. Contrary to what other similar apps have done in the past, 8fit is currently focusing on basic -which doesn't mean less effective- exercises that anyone can do in their spare time and in their homes.
And the plan seems to be working.
8fit has just announced that it has raised a $2.5 million round led by Balderton Capital's general partner Mark Evans. Prior to joining the London VC firm, Evans was the vice chairman of Goldman Sachs.
Booking.com's CMO Arthur Kosten other business angels completed the round, which also included the participation of previous investors Vitamina K, which backed the startup with €200,000 in July of last year.
Notably absent from 8fit's new funding round are Spanish Venture Capital firms. Novobrief understands that 8fit did meet with most local VCs but none other than Vitamina K decided to chip in. "Spanish VCs thought our valuation was too high for the stage we're at", Pablo says. "This would make sense if you compare us to other startups in Spain, but in comparison to European and US ones, I think it was very reasonable".
Although the app is free, it offers a pro plan for hardcore users that are willing to receive customised meal plans, help from a personal coach and additional workouts. Pro plans cost $25 every 3 months or $60 annually.
In a conversation with Novobrief, Pablo revealed that 8fit currently has more than 9,500 paid subscribers and that the number has grown at a 25 to 30% monthly rate over the past few months.
The following graph shows 8fit's MRR since June 2014. This previous image shared by Pablo on Twitter in April gives an idea of where the company is at.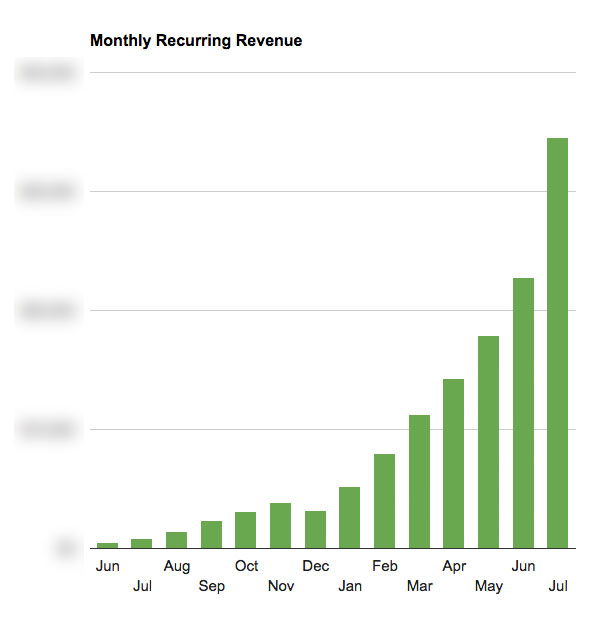 "We're growing very fast in part because all of our marketing efforts have a positive ROI", Pablo says. "When we invest in ads (mostly Facebook and AdWords) we make that back pretty quickly and we can repeat campaigns that are working very well".
Most 8fit users are in the US (65%) and 75% are women. "We would like the latter to be more balanced over time", Pablo adds.
The evolution of 8fit
While the app is currently focused on home exercises, the team has a much more ambitious vision of where they want to be in a few years. "We don't want to simply be a fitness brand", Pablo explains. "We don't want to just offer consumers workout plans and meals".
The former co-founder of Redbooth (previously known as Teambox) says that the idea is to help as much people as possible stay in shape, regardless of whether that means exercising at home, in a gym or outdoors. "We started with this because it made the most sense, but we're seeing an increasing number of users ask us for gym plans, yoga and similar things".
All workout and meal plans that are currently offered through the app have been put together by 8fit, but the startup admits that in the future they might open the platform to other trainers and nutritionists. "Next year we might add content from third parties and establish a revenue share model with them", he notes.
A growing, and hot, industry
Over the past few months the health and fitness industry has seen a wide variety of funding deals and, most importantly, acquisitions. Under Armour acquired MapMyFitness for $150 million, MyFitnessPal for $475 million and Endomondo for an undisclosed sum. More recently adidas also acquired Austrian startup Runtastic for approximately €220 million.
Also recently Fitbit went public at a $6 billion valuation, Jawbone has continued to build its war chest of more than $818 million and technology juggernauts like Apple or Google are building their own health platforms for users of iOS and Android, respectively.
Asked about these movements, 8fit's CEO says that big brands are trying to reinvent themselves through acquisitions but he believes the aforementioned startups might have sold too soon. "We're just at the beginning of this trend and we think fitness apps can grow a lot more and become established and well-known brands. Hopefully 8fit will become one of those", Pablo concludes.